Toss It a popular app for the Android, has finally showed its entry into the App store for the iPhone and iPod Touch users. With the concept of the game is already seen with other apps on the app store, Toss It has its own unique points to differentiate it from the other iPhone apps of its kind. Its fun, its addictive to toss the crumbled paper and the best part, you can challenge with anyone or challenge against your friend sitting next to you, using the Challenge mode.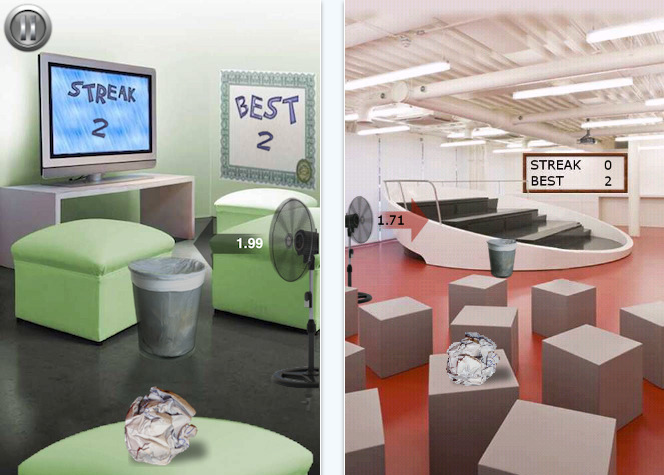 rel="nofollow>
Toss It game levels are little interested to toss the crushed paper on different scenarios. The levels here doesn't mean you need to finish a level to go the next one, rather the levels can be chosen manually to play at different situations. Each levels has a different gameplay experience and this was one of the unique feature that I love about this game. While you play the game, you can hear some voice and sounds based on your actions and sometime a chorus when your target misses out of the trash. The graphics is moderate with pretty nice sounds on certain actions.
Now let me come to the "Challenge" feature. The Challenge menu has two options – anyone and direct, to challenge the game with the online users or you can play with your friends using the direct mode. In the challenge mode, users are requested to challenge the opponent by your best score. So if the opponent win, he will be taking your coins.
What I liked
The gameplay was addictive and equally funny
Different levels having different gameplay
The scoreboards is informative
What needs to be improved
The game crashes during the challenge mode
The font looks little ugly and unreadable
The UI of the app can be improve to sport a decent look
Finally it was fun playing Toss It and I do hope to see the improvements in the next updates and in the meantime Toss it is addictive and its fun to play among your friends.
Cost: $0.99
Rating: 3.5/5

rel="nofollow>