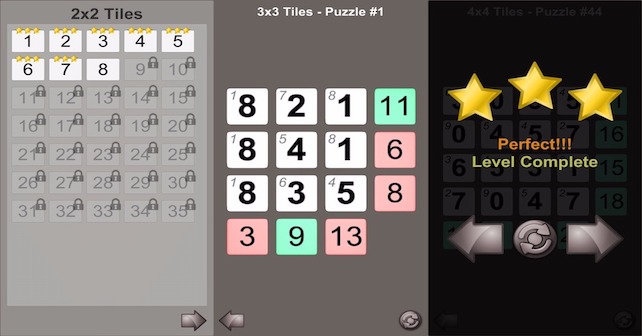 For math and numbers enthusiasts out there, Tilemetry could very well be one of the best number puzzle apps that could satisfy your endless craving for arithmetic problems. As to why it's called as such, the app is probably a play on the word telemetry, but in this case, the ones that require exact measurement are the numbered "tiles".
This is because in this game, you are given a specific number of tiles (based on the puzzle grid that you've chosen) that you need to flip in order to match them (once they're added horizontally and vertically) with the red tiles placed in the borders of the grid. Take note that the white tiles can be flipped because they are numbered at the back and front. The red tiles, on the other hand, represent the sum that the white tiles should arrive at once all of the white tiles have been added. They would turn green once you have arrived at the right arrangement of numbers in a specific number line. Of course, your job is to turn all red tiles green.
That is as simple as the app gets, at least, mechanics—wise. It tests mainly your addition skills and a little bit of your logic capabilities, especially once you start doing the larger grids. Keep in mind that the less flips you do, the higher your star rating would be for each puzzle. You can get up to three stars per puzzle, depending on how many tiles you flipped before you were able to solve it.
Yes, the smaller grids are relatively easy and would be a piece of cake for any person so it wouldn't be hard to get three stars in the said puzzles. However, it's a different story once you get to the bigger grids. If you want to get high star ratings, you would have to exercise careful analysis of each line before you start flipping a specific tile. It's pretty challenging and is very much recommended for players who enjoy difficult math problems in the form of a number puzzle.
Most of the puzzle apps in the App Store that involve numbers is concerned mostly with arranging (like the ever—popular Sudoku) and matching them into sets (like Threes!) or combining tiles and adding their figures in order to arrive at an exact total (like 2048). Tilemetry, considering its main feature said above, is very much different from the said apps. It is concerned more with mathematics. This is why it's better suited to be compared to 2048; however, the similarity between the two is simply in the aspect of adding numbers.
Price: Free