I always lived to believe that the simpler something is, the better it gets. However, simple should come with challenge at its peak. I also thought that if you're playing a game, at least benefit from it other than egoistic pleasure- something that leads to enhancing your cognitive functions, that is. That is why I love Sudoku a lot, and it's gotten more fun and exciting with the Sudoku#1 on the iPhone.

Sudoku#1-Paperless Sudoku On the Palm of Your Hand:
Say goodbye to the traditional way of enjoying your favorite pastime. With this app, you can play Sudoku all you want, anytime and anywhere through your iPhone or pretty much any smartphone and tablet. With over 5.472 billion mind-boggling numeric puzzles, it's impossible to run out of challenges on a daily basis.
The Interface:
Judging the book by its cover is something that a lot of people are guilty about. With that thought in mind, the creators of the app ensured that the first thing you see as you play the game is something that can compel your eyes at a glance. As you advance in every level, you will see the substantial digital transformation of the looks of the Sudoku board. From a concrete to vinyl backdrop, to something rather futuristic, the looks will definitely hook you.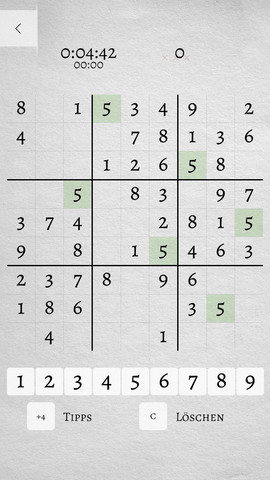 Functional Features:
Playing the game is very easy. You just have to touch and tap in order fill in various digits or notes. Unlike other Sudoku games developed for the Apple and Android app markets, it is enhanced with intuitively easy handling that makes it easier to hover your fingers over the screen. You can play the game with a couple of friends and check for your progresss through the Game Center. The first 5 levels of the game are for free and they will only be for a limited span of time. A couple more features would include:
* An exhilarating campaign based story
* SmartCount point system
* Challenging Chinese and Digital Sudoku!
With these features for a Sudoku on the iPhone, it's fairly the best there is so far. Simple yet fun and functional.
Price: Free
Rating: 4/5