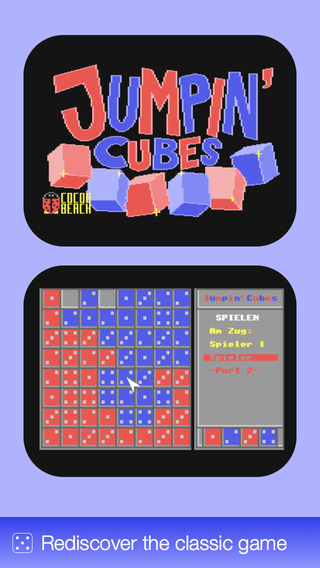 I love playing games, and when I find a gaming app that kindles my interest I have got to try it right away! Jumpin' Cubes is a lovely board game created on the gaming strategy of the legendary C64 classic. I was surprised to know that the game has been programmed by the same person who created the original in 1989.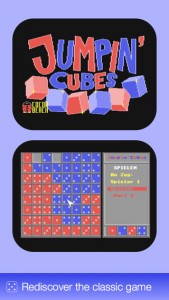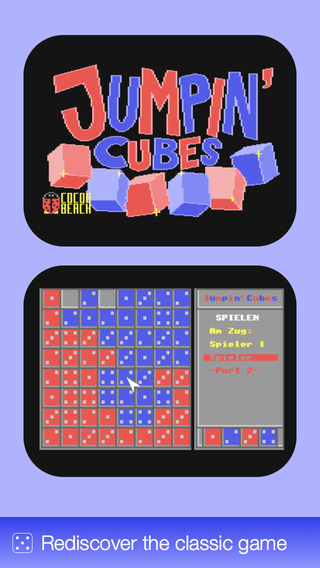 The board is an 8 x 8 grid in which two players take turns to place their cubes. You can play against the computer or a friend. When you open the game, you'll see a blank grid. Start by tapping on the grid in the square of your choice. Just as you do, the computer also makes its moves and the grid starts filling in. Now once the grid is full, start increasing the value of each cube by tapping on it repeatedly. When a cube reaches a number greater than its adjacent squares, it spills over and its value is transferred to each of the surrounding squares. This keeps on happening on both sides till the last of the cubes remain. 
There's a small trick that I am going to let you in on. Plan your moves accordingly and tap on the cubes that have the value of 4 to create more spillovers; the more you do this, the faster you'll be able to cover the grid. And when you start the game, remember to tap on as many cubes as possible before you try to increase their value. The app gives you a few other strategy tips that you can follow. 
On Jumpin' Cubes you can check out statistics of players, and share your experience with friends through Twitter and mail. The game has 5 computer skill levels – beginners, novice, average, advanced and expert, and is suitable for all ages. I did take a chance at playing the expert level and didn't do that well. ;( 
Gaming apps can be pretty challenging at times, and Jumpin' Cubes is definitely one of them. 
Price: Free
Rating: 4.5/5