Want to save a monkey? With Super Monkey Run by Geimo, you can help a monkey who is desperate to escape from a mysterious gigantic monster. The monster follows him wherever he goes and it is your job to help the monkey run away by dodging other creatures on the way. The colorful, neat, enticing, high-definition 3D graphics coupled with interesting gameplay make Super Monkey Run a fun way to pass time in waiting rooms, restaurants and airports.
Super Monkey Run is about helping the monkey escape from the pink colored monster that chases him. You must keep on running till you reach the sacred mountain and on your way you can grab as many power-ups and bananas as you want and destroy enemies to earn points.
The game has two monkeys to play with, Juky and Laika. This free version of Super Monkey Run has 4 levels from 0 to 3. To help you understand the gesture controls, level zero gives you directions on how to move. Later, you have a chance to try them in levels 1-3. You just need to tap on the screen at the point where you want to jump. You need to tilt your iPhone to the left or right to move and to grab coins and power-ups. All levels come with unique gaming environments. You get to unlock levels 2 and 3 only when you collect 20,000 and 50,000 coins, respectively.
Once the game is over the app displays the distance you have covered, number of bananas and bonus points obtained, your score and the best score obtained so far. In the leaderboard you can find top scorers of the day, the week and of all time. You can even send friend requests to players on the leaderboard and later challenge them to beat your scores.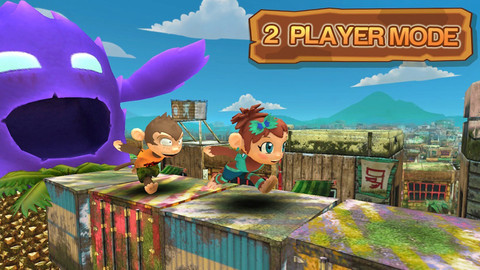 You are provided with options to turn ON/OFF the music and sound effects. You can also set up the accelerometer sensitivity level. Super Monkey Run allows you to connect your device to your PC and use it as the gamepad. You can even connect two iPhones to enter the 2 Player mode. With this app, you also have the privilege of enjoying 2D and 3D gameplay in the same game. You can make an in-app purchase to unlock more levels. What I really miss in this app is an option to share scores with friends via social media.
I am having a blast playing Super Monkey Run and I bet it is difficult to master this game. Both the monkeys, Juky and Laika are very cute to watch. The animation in the game is remarkable. Incorporated with many special features and challenges, the app is suitable for people of all ages.
Super Monkey Run is a free app that requires iOS 4.0 or later versions.
Price : Free
Rating : 4.5/5