This game could make you get an aggressive sugar rush, but who cares? Okay, this iPhone game is a match-three app that lets you change the position of the adjacent pieces of candy. The idea is to come up with groups of 3 or more candies that match. Once that is done, make them go boom!!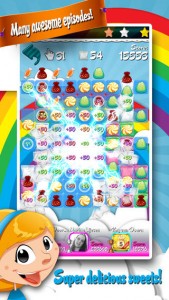 It's centered around a points-based system. The more accurate you match groups of 3 or more candies, the higher your points will climb. And because this game is just for sugar addicts like me and you, the special bonus features seem to appeal to sugar lovers as well. These bonus features include rainbow sweets, chocolate color bombs, as well as candy pack bombs. You can actually combine the goodies and then trade them up for some bonus bombs. Sounds good, right?
Sugar Crush HD uses the power of visual appeal to make you want some more sugar( not quite literally). And just in case you run out of sugar, don't freak out because you can steel purchase some more. Check them out at the special candy shop to refill your stock. Lolly and Poppy are the owners of this candy shop. Apparently, they are not too mean to help you replenish your reserves of sweets. It doesn't matter what time you're asking for sweets, just replenish your reserves.
This amazing iPhone game consists of 3 episodes and more than 150 levels to explore and spoil your taste buds. Check out the new update of sugar crush HD, and indulge in more fun. Again, you have the option of signing up through facebook. This way, you can see your friends' score and compete with them.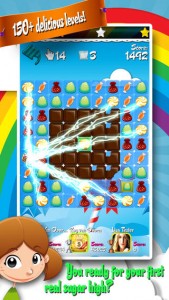 Are you ready to shoot your adrenaline levels with sweet sugar?
* Match-three game simply means you match and you win. That's the idea of this game.
* This game is available for both iPad and iPhone users. If you own any of the devices, no need to wait, just instal the game and start spoiling your taste buds.
* No spamming whatsoever. We aren't talking of some trojan virus to spam facebook accounts. It's a genuine app that every user will enjoy playing, no hidden tricks.
* If you feel you don't want to play all the levels, just use the skip option and select your targeted level.
* Users can enjoy high quality HD and graphics. The candy bubbles will make you play for hours, and you won't get bored whatsoever.
* There are no restrictions to levels you want to play. They are free to play.
* Audio quality is superb. No HD game is complete without great sound, and that's something you should take serious with candy crush HD.
Conclusion:
Go for it if you'd love to have some mad fun with sweets. Compete with your friends on facebook to earn more points. Download it now to get the ball rolling right away.
Price: Free
Rating: 4/5