Everyone of us, has the fancy to beat the villains and save the innocent. But we have to face lot of pain to achieve this in real life. No doubt, superheros in comics and cinemas help us a bit in satisfying our desire to be the savior of the world.
For me spider-man is the favorite hero right from my childhood. So I thought of sharing my experience with 'Ultimate Spider-man: Total Mayhem' developed by Gameloft. Here we go.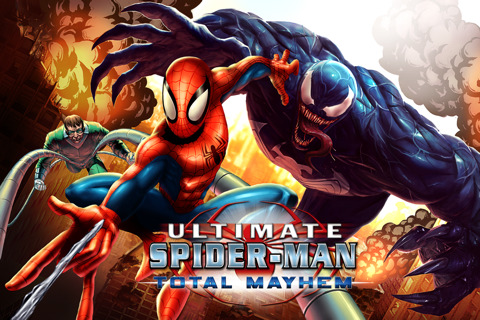 rel="nofollow>
This game really impresses me. It brings my superhero, right into my hands and now I can make him move, run and fight on behalf of me. The mission of the game is to save the NewYork city from the hands of super villains. The player can help spider-man to defeat toughest villains like Sandman, Rhino, Electro, Venom, Dr Octopus and Green Goblin. With the help of spider-man the player has to save the city from the dangerous Oz-Venum synthesis also.
In this game, three options are available to make spider-man fight – Punch, Jump and Web. In Basic mode the game offers special options like Spider-sense, Ultimate Spider-sense, Long Web Swing, Spider Orbs, Wall Crawl etc., to help the player in guiding the super-hero to deal with the villains. In Combo mode the player can get upto 18 different options to face the enemies successfully.
It has 12 unique levels involving various locations of New York. The spider-man has 20 fighting combos to face the enemies. The player can make spider-man to jump on rooftops, swing with magical web, Cling to the walls etc., It has an excellent movie intro to guide your way to the game. Attractive animation work and the slow motions, which make the player to feel like taking part in an action movie. After playing the game I got the satisfaction of standing for justice, by taking on villains. This game has a free version and a full version. It is available in 8 languages including English, Spanish and French.
Cost: $6.99
Rating: 4.5/5

rel="nofollow>