During the early 2005 Snake was one the most popular game on the mobile platforms. As years passed by thousands of games came into existence that has more enhanced gameplay right on our mobile phones. Luckily I found out my favorite Snake game on the App Store which gives a different feel when played on my iPhone.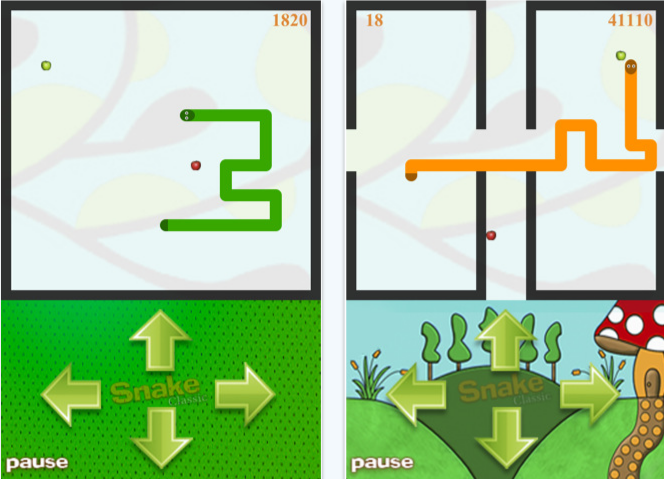 rel="nofollow>
I had been playing snake games during my college days, which is quite often played by many teens at those times and this is the first time I am giving a try for Snake Classic – a typical snake game on the iPhone. To start off lets me tell about the game play. The Snake Classic has two modes – Classic and Extreme. Classic mode has four types of layout – Open Field, Box, Hole in the wall, 4square. All these four layouts are pretty similar to the one thats played on every snake game. In extreme mode you need to play at the different layout with a time frame of 45 seconds each. Once you clear the 45 sec mark, the game moves to the next layout carried with your scores.
The graphics is mediocre and I think it could be improved. The game was little energetic, so it would be more appropriate to have some effects when the snake grabs the fruit or some other to kill the boredom. The scores could have been added globally, but its not that bad.
The controls are little tricks if you want to make two quick moves. But besides these, Snake Classic is good that can be played by any age group people. Its entertaining and sometimes addictive. The Snake Classic Unlocked cost $0.99 and its available on all the app store.
Cost: $0.99
Rating: 3.5/5

rel="nofollow>