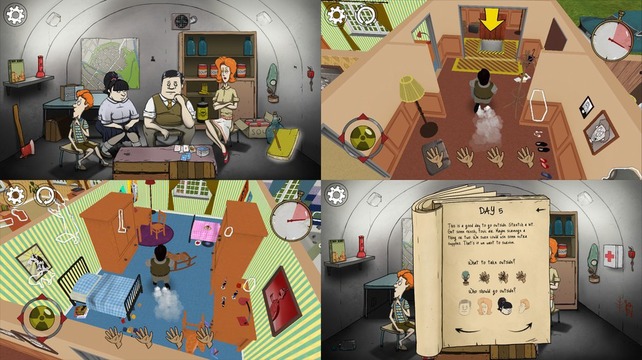 The nuclear apocalypse is coming to your iPhone! 60 Seconds! Atomic Adventure is now available to download onto your Apple device at the special discounted price of $2.99 (available until 6 October) via the App Store. The talented Polish company, Robot Gentleman is responsible for the latest games craze in the virtual world.
The premise of this game is a good one: scavenge and survive in the 1950's.
The earth's demise is coming quickly in the form of a nuclear apocalypse. Thanks to a highly efficient government's early warning system, you have 60 seconds to run around your house and gather as many supplies as you can before a nuke destroys the earth as you know it. Prepare for the worst by grabbing items that can be useful for survival before you lock yourself in the bomb shelter under your house. Emergency broadcasts aid you with helpful tips – perfect for assisting you in planning your strategy for survival. You will do better if you heed its advice!
Together with the family members, you managed to rescue during your mad-dash around your house, you attempt to survive for as long as possible whilst chaos reigns outside. To be honest, sometimes chaos reigns inside the shelter too! You'll have to make difficult decisions during your attempt to survive with your family. Ration food and decide who is eating today, and who isn't, when your food supplies are low. Hunt mutant cockroaches who are threatening to take over your shelter. And then, when the time comes, will you choose to risk going outside when life becomes too much in your confined post-apocalyptic world? Will the earth have recovered, or has it become a radioactive wasteland?
We enjoyed playing 60 Seconds! Atomic Adventure. What stood out was the refreshing discovery that every time you play 60 Seconds! you are playing a different, randomly generated experience. The layout of your house will be altered each time you make your mad dash around to collect provisions.
While you and your family are hiding out in the bomb shelter, you will have to use the supplies you collected to overcome random obstacles and scenarios that befall you. This will require you to use a bit of noggin, which makes it a highly comedic and entertaining game to play. By procedurally generating new scenarios for each instance of play, the guys at Robot Gentleman have created a game that doesn't get tedious and boring.
Price: $2.99