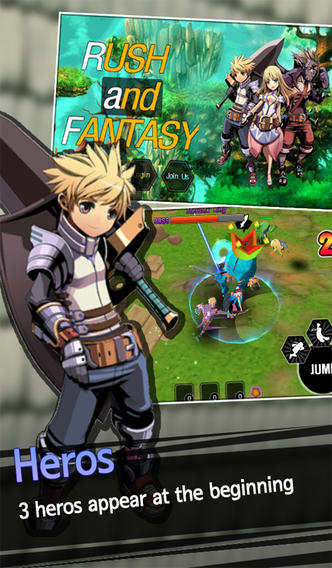 Rush&Fantasy is the ultimate merger between an RPG and a run game. In this revolutionary, action packed game, you get to do battle with monsters, become a hero, escape from dangerous dungeons, have lots of fun and find hidden treasure. You have to immerse yourself in this fantasy world that calls for your absolute concentration and skill to overcome the challenges that you will find along the way.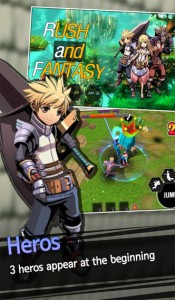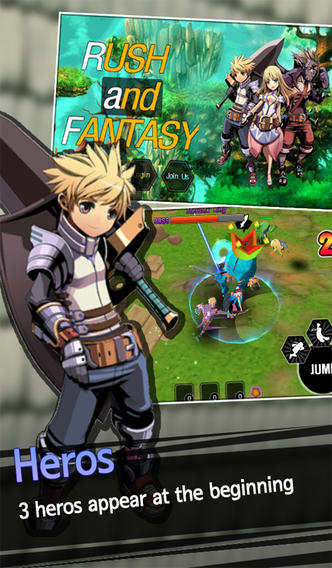 Rush&Fantasy calls for strategy, skill and pure talent to complete:
If you are one for an adventure that will take you to far away lands and introduce you to monstrous creatures, then Rush&Fantasy is just the mobile app for you. Not only is the hero, you, taken through a whirlwind of an adventure, you get to face the most challenging and gruesome of monsters at a moments notice. Your battles are waged in realtime, meaning, you never really know what you are going to encounter on the next corner. So, you have to keep your wits about you and employ a sound strategy and nothing but astounding skill to beat this game.
Game Features:
* You have 22 heroes – Each one of these heroes is not only unique, but fearless and very brave.
* You get to go through 25 dungeons – Each and every one of these dungeons is more dangerous than the last, which makes for a very interesting challenge.
* Easy controls – The controls are not complicated nor are they difficult to master, this means that you can be well on your merry adventurous way in no time at all.
* You have both single and multi-player modes – You can either enjoy this game by yourself or ask a friend to come along for the adventure.
* Your hero can grow and get stronger – This is done by gathering a large number if strength and skill cards. You also need special cards and item cards. By collecting these cards, you can upgrade to higher levels of the game.
* Frequent updates – This ensures that the game is both flawless and that your heroes have everything they need to attain higher playing levels.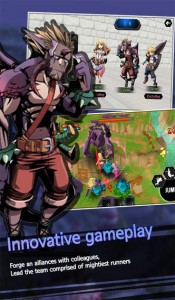 Compatibility – Rush&Fantasy requires iOS 4.3 or anything later than that. It is compatible with iPod touch, iPhone and the iPad. It is also optimized for iPhone 5. So, for those of you who simply cannot resist a great fantasy world RPG, this is just the app and game for you. Rush&Fantasy will not only keep you entertained, but it will challenge you as well.
Price: Free
Rating: 4.5/5