Rescue Pine is a challenging physics based puzzle build with splendid graphics and background music. Here is how the story of the game goes Pine is a little naughty porcupine who likes to play on trees and Porcupo is Pine's dad who wants to protect Pine out of danger. So you need to think analytically to solve the puzzles and save the Pine from falling woods to his dad Porcupo.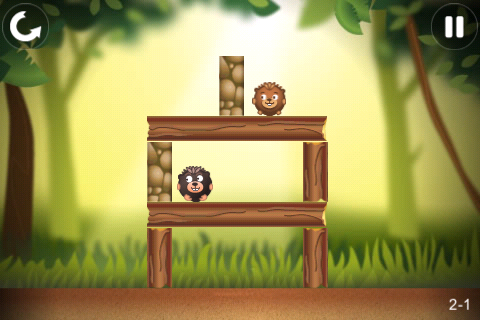 rel="nofollow>
Rescue Pine is all about physics calculations to clear the obstacles and save the Pine from getting hurt. There are many things that are lovable about Rescue Pine. First let me talk about the game graphics. Rescue Pine has a superior graphics with vivid colors to present us with the forest ambiance. The game graphics is strongly backed by its background music, which is pleasant to enjoy the game. The app has a very useful tutorial to instruct on how to play the game and if you give a try, it reminds us of listening to stories.
The game has totally 60 puzzles that are packed under 4 packages. One you finish all the puzzles in the first package the second package opens; the same procedure follows for the other two packages. The more the puzzles you solve greater the toughness of the puzzle, so you need to think and play before making any moves, however of you have made a wrong move you can restart the same level any number of time.
Finally this amazing puzzle app is available for free download from the app store. Believe me, the free offer is valid for a limited period of time. So don't miss this opportunity of downloading this stunning puzzle game for free of cost.
Cost: Free (For a limited time)
Rating: 4/5

rel="nofollow>