There isn't a limit for funny iPhone game and here its the case of a rat driving scooter for different targets. Rat On A Scooter is a fun filled racing game, where you play as rat to drive the scooter to make necessary jump to be alive. While jumping from one platform to the other, you need to collect the cheese and in some case you need to grab the fuel. The game has four different mode such as Super Cheese Xl Fuel Depot, Skill Course, Power Rider to select any of the four to start the game.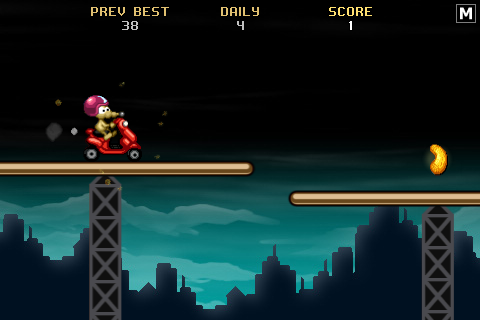 rel="nofollow>
Rat On A Scooter is a simple designed yet a enjoyable gameplay with dead simple controls to perform jump from one platform to the other. The three game modes has three different rules of gameplay to gain more points with one thing is common to jump on platforms. The Power rider mode is real fun to play with some special powers that can be acquired during the game. The graphics is pretty sufficient and the game sounds are not so great but it well matches with the actions.
All the three modes has its own style of gameplay with seperate scores for each modes. The app also has a dedicated online score web page, which list of the top scorers from around the world.There are few disappointments like same background for all the modes and there isn't nothing new in spite of looks with the three modes.
If you are idle and think what to do, try your hands on this enjoyable gameplay. Rat On A Scooter can be downloaded for free from the App Store, so you don't need to think of trying out this fantastic game for free on your iPhone and iPod Touch.
Cost: Free (limited time)
Rating: 3.5/5

rel="nofollow>