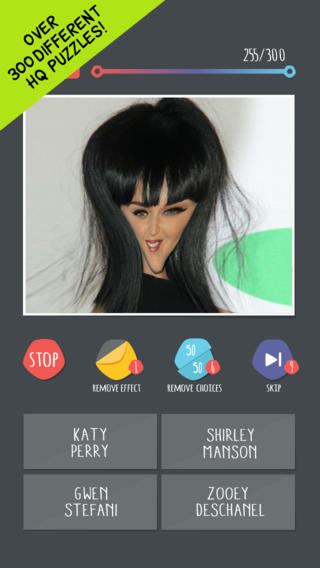 QuizFace: Celeb Picture Trivia Quiz is a type of game who aims to test the knowledge interested in the musical and entertainment industry. Featuring various international artists, the game tests players' knowledge by displaying various morphed image of the singers or stars and then providing the challenge to guess their names. It's easy to download and play the game, and it can get extremely fun. However, after managing to finish the first levels the real challenge starts intervening, hence providing gamers a chance to see if they can truly recognize all the stars out there or not. Here are some key features of this game: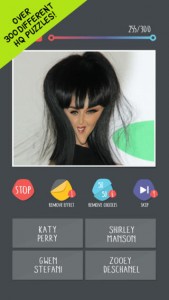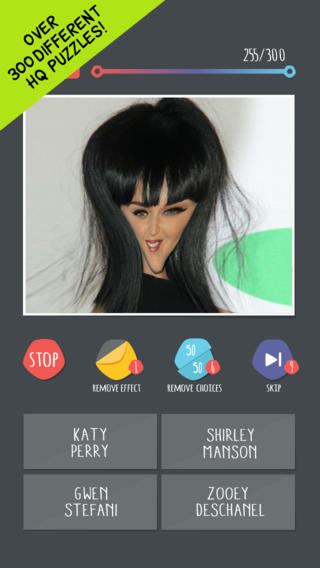 Over 300 levels of Fun Quizzes:
QuizFace has more than 300 levels in store for its players, hence guaranteeing hours of uninterrupted fun. Once a level has been completed, the new one is automatically attributed hence enabling everyone to see if they've got a basic knowledge of the musical industry or not. Various singers such as Justin Bieber, Katy Perry, Gwen Stefani or Kid Rock are featured throughout, hence the reason why everyone will start with a fair chance.
Quality Morphed Images, Addictive Gameplay:
Each image of the singers has been morphed or modified in such manner that it's hardly recognizable at first glance. The game provides players with 4 name options for each image, but only one of them is correct. There is also a time limit which can prove quite bothersome at the higher levels, but this only provides a higher level of entertainment to the game. Various power-ups are also available throughout such as "Skip", "Remove effects" or "50/50". The latter option reduces players' guessing to only 2 names.
Art and Graphic Tweaks:
The images displayed throughout the game are in most part popular, having been published already on various newspapers and magazines. However, they have been added a unique morphing effect which makes them truly hard to recognize at times. As such, the challenge is always on to guess singer's name before the time runs out. There is also a bonus if you manage to finish in time, the time limit for next level being slightly extended.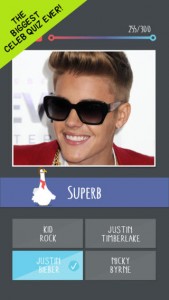 Summary:
QuizFace is a new game concept when it comes to the trivia games market. However, it manages to impose successfully thanks to its innovative gameplay and singer choices which keeps one's mind working at all times. This game might not appeal to all players, but those who are slightly familiar with the music industry and enjoy quiz games will definitely want to give it a try.
Price: Free
Rating: 4/5