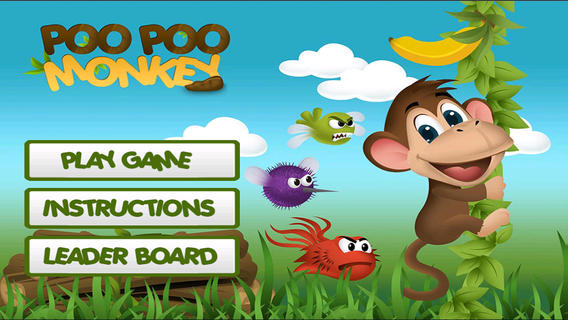 Have you ever seen a monkey that is absolutely crazy about bananas? Poo Poo Monkey is one such monkey which is ready to fight all odds to savor the bananas he just can't can't resist! Poo Poo Monkey is a funny game you can enjoy with your buddies.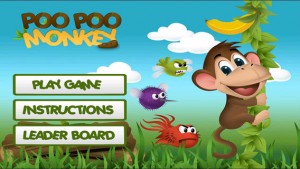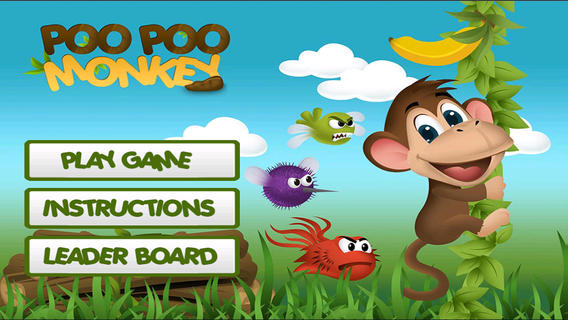 Here begin Poo Poo Monkey's adventures. When you start the game you can see Poo Poo monkey holding on to a creeper, longingly gazing at the bananas on the top. Once he starts climbing the creeper, he gets attacked by 30 different types of pests – beetles, flies, bees, spiders and so on. Your mission is to save the monkey from these creatures by flicking poo at the pests to get rid of them. The pests can be attacked by placing your finger on Poo Poo monkey, and flicking the poo across the screen in all directions. You can also flick the creatures away with your fingers, but to earn more points you need to flick poo at them!
As Poo Poo Monkey climbs up the creeper, you can see bananas dropping from the top. It is your job to help the monkey collect the falling bananas. You just have to flick the falling bananas to the monkey and he grabs them. Based on the number of bananas the monkey collects, you can buy power-ups – flaming poo flicks, three poo flicks, 10 second shields and poo storms to safeguard the monkey from pest attacks.
Occasionally, you see parachutes gliding down the screen. You can hit the parachute with poo to get additional power-ups and special effects. Your scores depend on the number of pests killed, and the number of bananas collected by the monkey. Poo Poo Monkey has 10 challenging levels, and in each level you have to reach certain scores to move to subsequent levels. You get medals at the end of each level based on how you perform.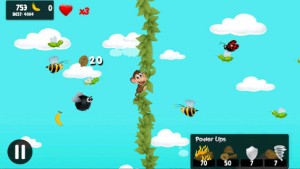 The game has nature-themed, colorful elements which go well with the app's concept. The levels come with different background images such as a tropical forest, plain grass fields and sea shores. You have an option to share your scores with your friends via social media. You can challenge your friends online using the leaderboard.
Poo Poo Monkey is a free gaming app which lets you buy bananas and disable ads through an in-app purchase. The exciting graphics, musics and sound effects are the features which impressed me the most in the game. Developers could consider adding a video tutorial to the game, to help first-time users. I felt that a timer option could have helped in increasing the game's level of difficulty.
Poo Poo Monkey promises addictive fun and rollicking laughter for people of all ages.
Price: Free
Rating: 4.5/5