Love to fly like a bird, then you must try this funny Pigeon Squadron iPhone app on the app store. Pigeon Squadron is an adventure game based on a military theme, where you will play the role of pigeon to poo on the targeted humans to go to the next level. A very funny adventure game with loads of fun on the way and the controls are so smooth to fly on the sky.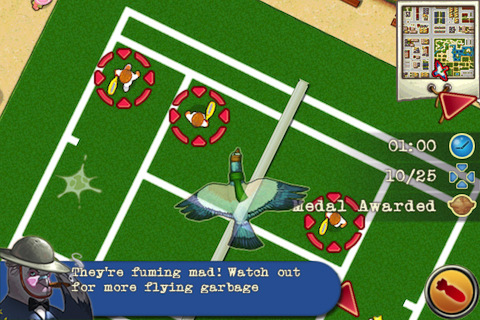 rel="nofollow>
Pigeon Squadron has three cities with each cities consists of 15 levels. Each mission has a target to be completed with a defined time and once you clear the requirements, you will be awarded with gold or silver or bronze medals to advance to the next missions. First 15 missions are easy to play except the 15 mission which requires some refined play. The game graphics was amazing with a military theme song running in the background. It feels like riding a fighter plane to kill the enemies by dropping the bombs.
The game is about how efficiently you manage time to poo on as much of people you can. It is not so hard, as you are guided with pointer to target the victim. You can bomb on any living being in the city to gain points, however in the same time you should watch out for the obstacles that comes on the way. Totally Pigoen Squadron has a bunch of thrills and frills to spend our things in a fun way.
Cost: Free (limited time offer)
Rating: 4/5

rel="nofollow>