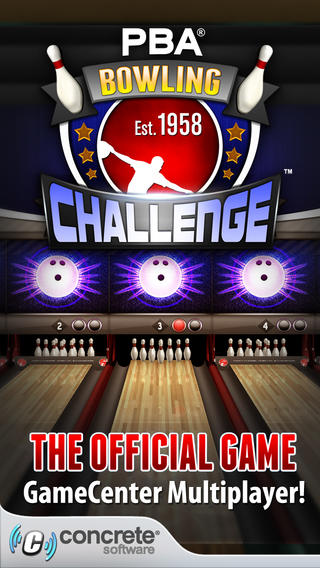 Though sporting is not considered an art or sport by most, it is important to understand that it is not as easy as simply rolling a ball out of your hands. You need to throw the ball down the alley carefully so that it knocks down maximum number of pins. This skill is not much recognized in the sports world. The PBA Bowling Challenge app has been created to give this game its due importance. The PBA Bowling Challenge game introduces bowling skills on the iOS and maintains a good balance between competition and fun. So, if you want to play a bowling game that gives you the feel of being in a real alley, this is the game for you.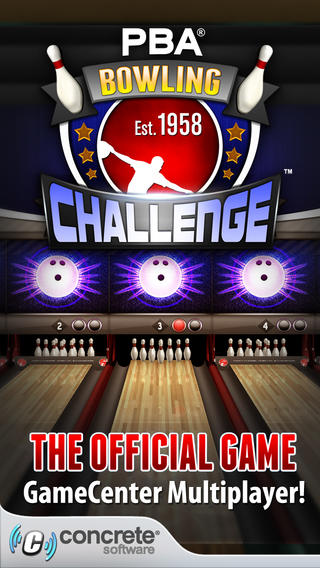 The Game:
The game has a very innovative and interesting layout. There are two modes – quick game and career. If you want to perfect you skills by practicing, then the quick game is perfect for you. It will help you get prepared for the tournament.
It is in the career mode that the challenge sets in. First, you need to compete with some average players in several games. After you clear this, you will be allowed entry into the tournament wherein you will have to compete against one of the topmost players worldwide. If you succeed, you will earn points and golden pin credit. Every tournament has bonus challenges, so that means extra fun.
Interesting Features:
Online Multiplayer Action – PBA Bowling game has a multiplayer mode that allows you to invite your friends, or you can even choose to be matched against any random opponent and bowl against them in real time.
Leaderboard and Achievements – As you keep unlocking dozens of achievements you will be able to climb to the top of various individual tournaments and multiplayer leaderboards.
Bomb Ball, Split Ball and More – Though this is not a legal tournament, but these special types of balls will prove to be very helpful when you play this game.
If you find the lane too big and your ball too small, the Lightning Ball's speed will prove helpful.
If you want to clear a 7-10 split, then you need to use the Split ball, in which the balls are split into two when you tap on it.
If you want to knock down every single pin on the lane, then you should use the bomb ball.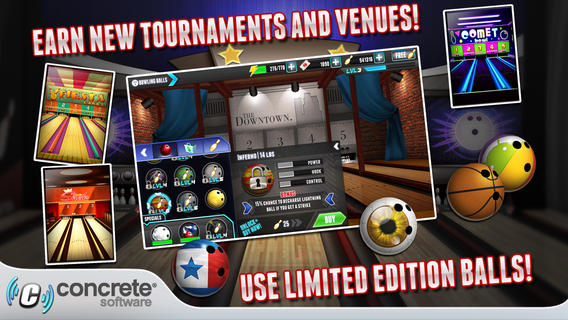 Controlling the Game:
Controlling the game is very simple. You need to control it through various screen swipes and tilts. You can arrange this according to your convenience in the main options menu. Various special balls are also available to help players, and you can buy them using in-game ticket currencies. The game has a total of 30 different types of balls, and they vary in terms of weight, spins and other criteria. The alleys, spins and balls, they all differ to keep the game interesting.
Graphics:
This iPhone app game has amazing graphics that are sure to hold your attention. Though there are other similar games available, its superbly done graphics gives it the edge over others. The alley has a nice polished surface to make sure you enjoy the real feel. To release your ball, you just need slide it using one finger after placing it on the right place on the lane. When trying to control the spin you can alter your iOS device's tilt.
Compatibility:
This game is compatible with iPhone and other iOS devices with version 5.0 or more.
Conclusion:
You can play this game along with your friends, compare scores, and keep them updated about every progress you make by posting your game results in social networks like Facebook and Twitter.
Price: Free
Rating: 4.5/5