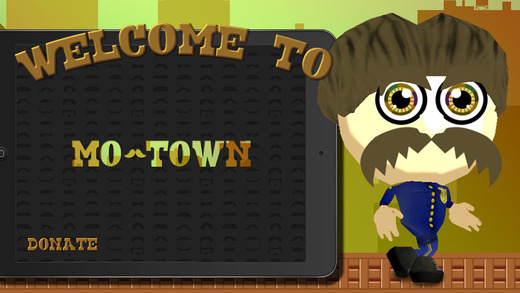 Mo-Town is a recent game released by Lucky Mask Games Inc. and specifically designed for iPhones and iPads running iOS 4.3 and above. The game rejoices from a simple gameplay style and various levels, yet the game concept in itself is unique. The user literally has to throw moustaches at opponents in order to defeat them and advance through, while taking care not to be touched by any of them as that would imply losing a life. It's also to be noted that throughout the adventure (20 different rounds, increasing in difficulty), the user only has 3 lives to rely on.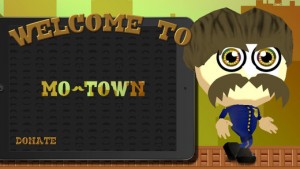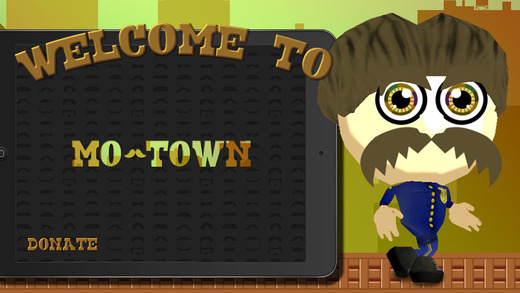 Features:
* Custom-Designed Characters
Users have the freedom of designing their own characters straight from the main menu, thus being able to approach the game in a fun and original manner. Each character can benefit from a different mustache (plenty of styles available), different costume and even particularized haircut and skin color. Once the end character is designed, it will be displayed in the same manner in the arena, where players have the objective of defeating the various foes.
* Combo Moves
Users can perform combo moves by defeating multiple opponents in a row, and thus gaining bonus points for this. Each combo number is displayed in the bottom row, along with the goals that players have to complete (e.g. defeating 8 opponents, 12 opponents, etc.).
* Easy Controls
The Mo-Town game can be easily controlled with the aid of a virtual joystick and two different buttons: A and B, which are used for jumping and throwing "mo's" at opponents.
* Online Leaderboard
Players can complete online for the highest score thanks to an online leaderboard feature, which raises the bar when it comes to completing the game efficiently. The leaderboard is updated in real time, allowing new players to make themselves a name by positioning among the first ones.
Graphics:
Mo-Town benefits from new-age graphics resembling cartoon characters and a very console-like interface. The action is intense at all moments and allows players to live the thrill of it. Additionally, animation is smooth and the transition between rounds is almost non-noticeable.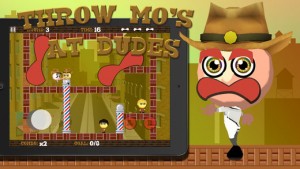 Usability and Application Performance:
Mo-Town game is highly usable and can be controlled with ease on both iPhones and iPads. It has low requirements in terms of hardware so no lags or freezes are to be notices even on older Apple devices.
Summary:
Mo-Town game is an addictive iOS title which provides plenty of innovative elements for cartoon and action-game fans. The game concept is entirely new but very well optimized, so users won't feel any drag in terms of performance. Mo-Town can be purchased for the price of $0.99 from App Store.
Half of game developers' earnings will be going to the Movember Campaign. Movember is a charity with it's sights on raising awareness for Mens Health including testicular cancer, prostate cancer and mental health. Movember takes place during the month of November where men from around the globe grow Moustaches or "Mo's" to help bring awareness and raise money.To raise money you can sign up at Movember.com as a individual or as part of a team.
Price: $0.99
Rating: 4/5