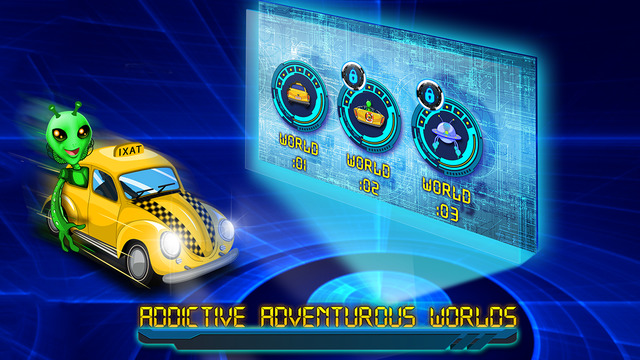 If you have a knack for maneuvering vehicles like taxis into a very adventurous path that sometimes verge on dangerous or if you're simply a thrill seeker always seeking for fun, then you'll most definitely love the new taxi game iPhone app, Taxi MOE – Martian Invades The Planet.
Concept and Theme:
The Taxi MOE taxi game app for iPhone was just recently released by developer and seller Clint Willett this Aug 3, 2015. Just like other vehicle chasing game that hit the market, Taxi MOE allows players to control their very own taxi with MOE on the drive seat. "MOE" is a Martian coming to Earth to help save his family against Martian experiment. But driving the taxi is not just MOE's expertise. He has the ability to go where he needs to be using wormholes! If you're someone who's tired of the typical taxi driving game and you want some twist that brings you "out of this world", then Taxi MOE would be perfect for you.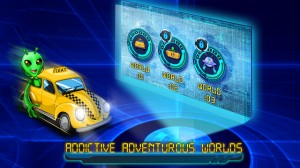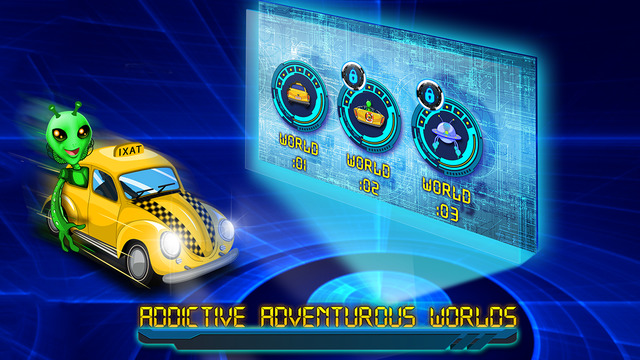 Features
* Wormhole Exploration – Playing taxi with MOE is so much more fun with wormholes as your mode of exploration.
* Vivid Game Graphics – Boredom will never be the case for you whenever you're playing Taxi MOE. Why, the app features vivid graphics of colorful sceneries that is very eye-friendly. Not only that, you get to collect coins while you're inside the game so it's so much more fun.
* Challenging Worlds – Get hooked by the game's different world levels wherein you can test your driving skills and dodging strategies. Enjoy an infinite game time at each world and simply switch from one world to another as you please.
* Unique choice of Weapons – Fighting the World Police vehicles takes more than just strategy to win – it needs unique fighting weapons too. Enjoy and win the game's different worlds as you go with unique weapons to help you. Destroy every obstacle that tries to slow you down by using alien beams, or the more traditional cannons and missiles. There are also other unique weapons like slow motion, shields, armors, and side-kicks to help you.
* Easy to Learn Controls – A first time gamer? No worries. The Taxi MOE taxi game iPhone app is very easy to learn which makes it a very good app for every member of the family who enjoys a game challenge.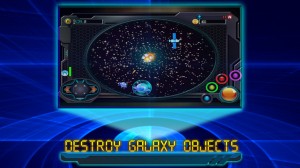 Functionality and Usability:
With its vivid graphic images and very Martian-like game field, you will find Taxi MOE a very fun and challenging game especially if you want to kill time, you'd no doubt be hooked to the game once you start it.
Design and Performance:
If you were looking for a challenging iPhone game app that is made with high quality graphics and a never-ending adventure experience, Taxi MOE wouldn't disappoint you. The easy to learn controls is a very big plus too since it'll be easier for you to learn how to manage your way around the game. For just a few hours, you can be an expert at driving MOE's taxi, avoid crashing with the World Police, and stay alive as you try to dodge deadly objects like missiles on your way.
Conclusion
There might be plenty of taxi or vehicle maneuvering game like Taxi MOE out there but what makes this app stand out against others is that it's very futuristic and has a cool air to it. The app will actually make you feel a bit like the captain of Star Trek's Enterprise – only this time, you'll be driving a taxi into space instead of a spaceship. But more than that, Taxi MOE is a game that you should try if you're up for an adventure that will challenge not just your mind but your nimble fingers in winning the world too.
Price: Free
Rating: 4.5/5