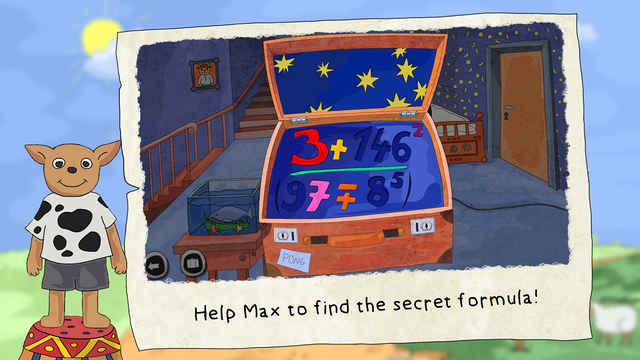 Playing a game is awesome as it allows you to keep your mind off trouble. That is a reason to play Max & the Secret Formula. With awesome graphics, great plot and beautiful music, this app stands out. In addition, you will love the settings and characters. This game can become the perfect bedtime story, and you will become addicted to this app down the road. The app is free to download as well.
Concept/theme
Max & the Secret Formula is a game designed for the whole family. Kids will love this app as they will meet amazing characters. Lisa's tower is about to fall down. Uncle Pong has a secret formula to prevent this tragedy from happening. However, he just forgot the place he left the numbers in. Your task will be helping Mr. Pong find the numbers. In the meantime, you will see amazing inventions, settings, and characters. You will also build a real rocket over time.
Features
Plenty of mini games.

Awesome settings.

Meet interesting characters.

Excellent app for the whole family.
The working of the app
Players will get a great gaming experience. You will be able to play tons of mini games and see many beautiful animations. Though you will try to find numbers, you will have a lot of fun anyway. Exploring Pong's house will be an experience that you will never forget. This game's child—oriented storyline as well as point-and—click features will amaze you. You will be saving the tower and having fun at the same time.
What makes it stand out from other apps of its kind?
You will be exploring both Pong's house and Rightaroundthecorner village. This hunting trip will allow you to discover fantastic things over time. You will be helping Max save Lisa's tower. Story lovers as well as bigger kids will find this app amazing. The kids—oriented design and unique plot make this app stand out. With charming music and beautiful sound effects, Max 8. the Secret Formula is here to stay. The latest version of this app is enriched with new characters and better graphics.
Your kids will have more fun than ever thanks to this game. You will be able to spend more quality time with your little ones as well. If you have been looking for a game with excellent vibe, characters and graphics, Max & the Secret Formula is for you. Those looking for an app to have fun with should consider this game, as it has plenty of mini games and amazing surprises.
Price: $2.99