Many apps are designed for entertainment purposes. Among the famous games are question and answer apps, which are interesting considering the information you can learn from it. However, Knowbody Knows stands out as a unique game and more enjoyable than conventional question and answer games.
App Overview:
Developed by Uncle Rez Games, Knowbody Knows app is the digital version of the famous party board game. What makes this game different from others is that the question is about you or your friends. No textbook trivia or general facts to know in order to join this game. It will test how much you know your friends and vice-versa. There is no such thing as right answer, but players must be able to choose and answer somewhere within the low and high answers to gain points.
Features:
Knowbody Knows possesses numerous features that prompt people to download this iPhone app and have fun with their friends through their portable devices.
• Main Menu to Show Priority Games – The user interface is easy to navigate and logging on to the main menu will inform you of the games that require your attention. Knowing the games with your friends to prioritize will surely deal with the boredom you are feeling for the day.
• New Play Again Button – Start the game by simply tapping the Play Again button, which is a new feature added to this game.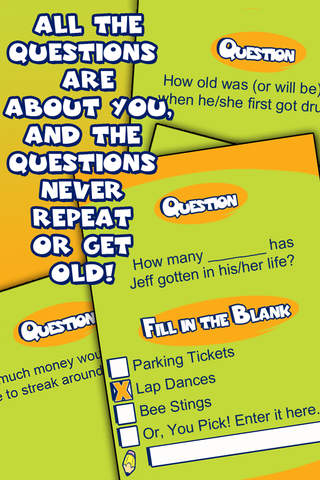 • Point Gain from the Previous Round is Displayed – Review how much point you made from the previous game and see how you faired with your buddies.
• Add Friends with Ease – Adding friends to play with you is easy. Play with them and they will be added to your list.
• Free Sign Up – Start playing the game by downloading and signing up. You need a minimum of two friends to play with you. Encourage them to download and sign up since using Knowbody Knows is free.
• Better Server Stability – Improved server stability means better support and performance in playing the game.
• Submit Your Own Questions – Share your own questions in the game and see your friends' reactions and answers.
• Guarantees Fun among Participants – What makes this game more fun is that you will have an idea on how your friends perceive you. Moreover, you expose more of yourself to them, forming stronger bonds in the long run.
Knowbody Knows is indeed a great game that you can play with friends. Bring out the wackiness from everyone and turn your boring day into a fun-filled one.
Price: Free
Rating: 4/5