King Strike is a typical pool action game for the iPhone and the iPod Touch. The King Strike is a campaign game, which revolve around a story to save the prince of the Ice kingdom, who has been kidnapped by evil magician Krakabur. Now King Mirolad sends him army to take his son back home. So here you will be guiding the army to defeat all the obstacles that comes on the way and once you defeat the Krakabur's army you will be freeing the princess and the game the ends.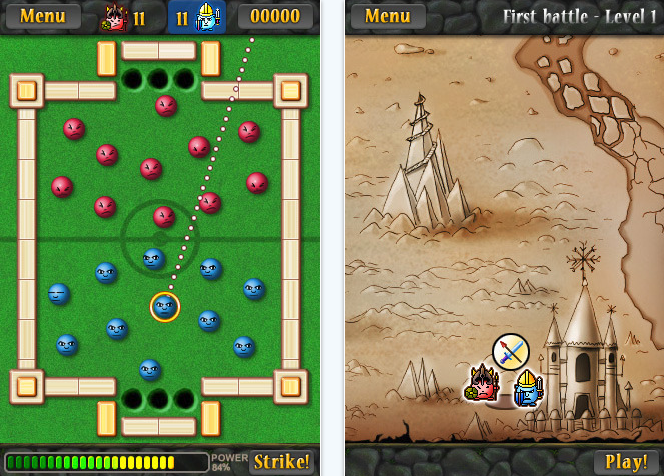 rel="nofollow>
King Strike is a pool based game with single player and multiplayer mode with multiplayer game having options to find friends on WiFi, Internet, Hot Seat (Multiplayer using the same device) and Bot Match (Multiplayer using the same device). The multiplayer mode is fun to play over the WiFi and I haven't tried with the finding player on the Internet as there aren't anyone available for the battle. The option button brings you the control over music and Sfx alonh with that you can select the level of difficulty that you need.
As I said you have the control over the military to defeat the Krakabur defense to save the Prince. To defeat their defense you need to take moves carefully to move from one level to the another. The background music is pleasant to hear backed by the game sounds. I won't say the music part is good, but its not annoying. The graphics is good enough for a pool game and I should definitely talk about the expressions of the rounded creature. The expressions of the little rounded creature was great based on different situations and I really appreciate the developers idea to create such an unusual game in  a pool based concept.
Overall I had nice time playing King Strike on my iPhone. It was fun actually, hope their next updates brings even more fun.
Cost: $1.99
Rating: 4/5

rel="nofollow>