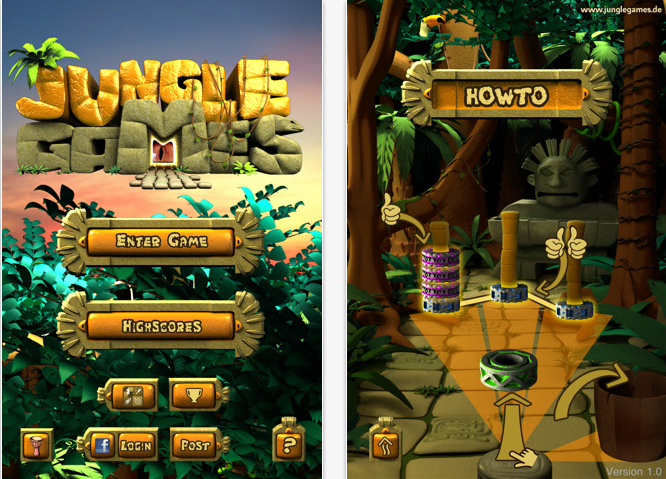 Welcome to the Jungle! lets, see a wonderful iPhone app. Its nothing but an entertaining puzzle game in the cartoon like forest environment. When, I started the game I am wondering that the graphix & visualization looks awesome. And, I am so excited while playing the game. It cheers throwing different colored rings in the three poles.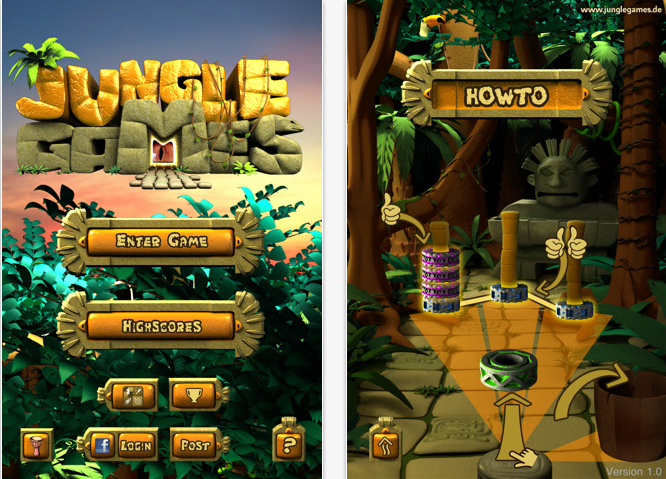 It's too simple to play and makes enthusiasm to go higher levels. Just you have to swipe your finger in different directions. It has the three poles and you have different colored rings to throw. Swipe your finger to toss colored rings at three poles. Then build rows or columns of matching three colors to earn points and make disappear the matched rings.
If you filled maximum of five rings in all the three poles the game gets over. It will shows the next two upcoming rings in the right side from that you can make a advance planning. If any one of the ring doesn't matches the previous rings you can throw it to the bin in right side. But, it allows only three times.
It has the five different levels with three untimeliness levels of easy, medium, master and two limited time levels of panic and ultra panic. In panic level you can earn time while you win points to increase your count down. But, in the next level of ultra panic your time is constant and have to throw faster. All levels have unique score board and you can reset whenever you want. Highest scores and achievements will be saved in game center.
Another feature is you can share your achieved victory scores in Facebook with your friends. I am so excited with playing and reviewing this puzzle Jungle game. Really, an interesting and more entertaining game. Try this game yourself and you will enjoy it.
Price: $0.99
Rating: 4/5

rel="nofollow>