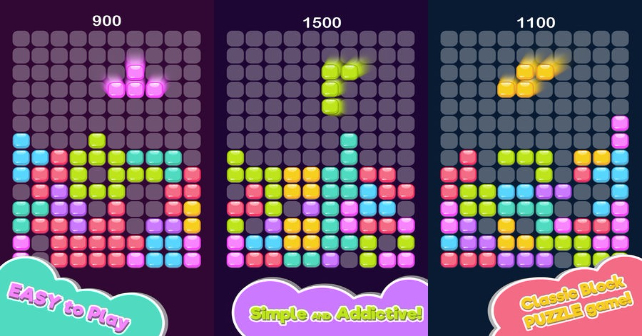 Classic puzzle games are hard to beat. This is why games like Jewel Block, which skillfully adapts popular game aspects as its own, become instantly popular. While Jewel Block is in itself the highly addictive puzzle game that it claims, it certainly takes inspiration from block puzzle games like Tetris. This is one of the main reasons why any puzzle game lover who is familiar with the gameplay of the said game won't find it hard to love what Jewel Block has to offer.
That's not to say that Jewel Block's gameplay is the same as Tetris, though. In fact, it's better to say that it's an evolved form of it. The inclusion of a timer, for instance, certainly ups the ante of the classic puzzle game that we're all familiar with. It adds that certain seemingly simple time element that makes every playthrough more challenging and certainly more exciting.
It's fairly easy to start a new game any time after launching the app as well. Much like the blocking game of old, you are tasked clear as much lines of blocks as you can as you control and decide where to put cascading block formations of various shapes and colors. The colors of the blocks aren't that much of a factor in determining what lines you get to clear. As long as you are able to complete rows, you will score and the line of blocks will be cleared to make way for the ones on top.
Like Tetris, the player's quick thinking and reflexes would be tested to the fullest. You can easily change the position of the falling block formations by swiping towards the direction you want it to go and tapping. You will always be made aware of how much time you have left so you have to be very active and economical in your actions and overall strategy. 
How many scores you've acquired can also be easily viewed on the upper middle portion of the game interface as well. After you are defeated (once the entire board fills up with blocks) or run out of time, you can easily share your score with your friends or try again to start a new run instantly. Up for more competition and challenge? Then know that the game also incorporates a global leaderboard where players' scores will be automatically listed.
Jewel Block is very simple to the point that it pretty much fits the label of quintessential arcade puzzle game. While it may seem so elementary, it's almost always guaranteed to keep you playing long after that first try and eventual first defeat. It fulfills almost any arcade player's wish: easy to grasp gameplay that never lets up with its difficult challenges.
Price: Free