Word aficionados, this is the perfect app for you. If you are interested in increasing your word knowledge or taking all that you know and test your overall wit while going against a timer, then you will absolutely love iLetterz.
First and foremost, the app is free. You can't be free to have a load of fun right in the palm of your hand. This app is the perfect combination of Wheel of Fortune and Jeopardy wrapped in one. 
Here's how it works. Based on the level you are playing, you will be given random letters and a basic description of the word you are to guess. From there, you begin to guess the word. Your goal is to guess the word before the time runs out. There's an in-app feature called a "bomb," which allows you to purchase the option to reveal extra letter to guess the word faster.
You will surely notice your increased ability to think, spell, and your vocabulary will increase as well. 
Here are some of the features you are sure to enjoy when playing this app.
* No need to register, just log on and start the timer
* You will enjoy 30 levels of spelling fun with frequent updates
* Over 2700 word definitions to keep the game interesting and challenging at all times
* You will not fall short of having fun with this app
* In-app purchasing features to help you progress through the levels quickly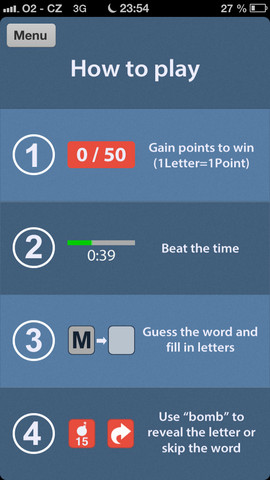 The app design is simple and easy to follow. The direction are clear to ensure you can begin to have fun immediately.
If you are a fan of intellectual challenges, then you are like several people raving about this app. Here's what they have to say:
* This app keeps me challenged. I love it.
* I'm getting better with every word.
* This is so much fun. Me and all my friends are growing in our knowledge with this app.
Price: Free
Rating: 4/5