Playing games on my iPhone is always a thrilling experience. Particularly I am very choosy when it comes to iPhone games. Well, this post is about my review on Grumps a new iPhone game app. Grumps is an old styled very simple and intrusive iPhone game that reminds me of what I played before some year back and this certainly drives me to play this game.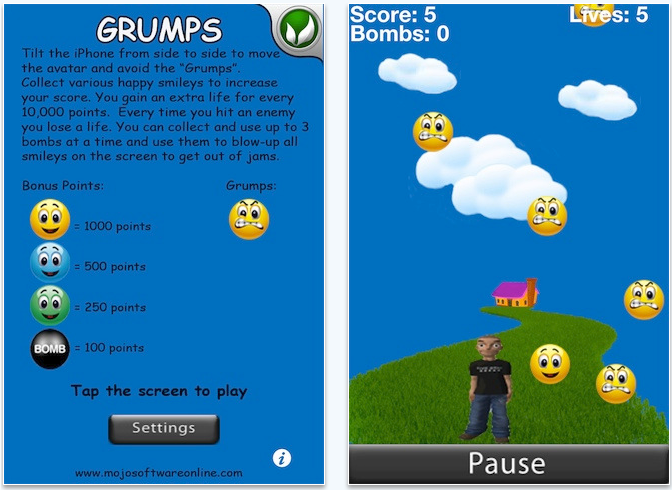 rel="nofollow>
Grumps is made with a simple idea to collect the smiling smileys and in the same time escaping from Grumps. The games revolves around collection the smileys to reach 10k points to move to the next level. There are three different kind of smiling smileys with different points, so the more you grab the smiling smileys, the better changes of reaching the next level. The game is a bit tough, at the beginning as I was not used to the game and I should say the grumps are really tricky to chuck us out of the game.
Grumps won't be tough without the "grumps" (angry smileys) which means, if you hit the grumps you lose your life, so overall, if you hit 5 grumps the game gets over. But on the same time, I won't say its hard to play, as there are bombs to explode the grumps that appear on the screen. The bombs can be collected up to the maximum of three to clear the bunch of grumps that try to kill us. In order to use the bomb, tap on your screen to give a blast and save your life. Its simple isn't it?
What more you can see apart from smileys
There is nothing much to talk about addon feature except the ability to add background music through iPod. Using this function, you can select the songs that has to be played in the background.
There is another cool feature, that I forgot to mention. Its about Open Feint a leaderboard software that is integrated within the this app. The Open Feint's leaderboard for Grumps shows an online stats of user on lists based upon the points accumulated. You could see me there in the 13th position, but sadly there is only 14 users displayed in the list. To be more clear, the 14 users in the leaderboard doesn't mean the app was used by only 14 users. It's because Grumps has an option to play the game locally, which limits their scores getting displayed on the leaderboard.
Overall, a simple app with an addictive gameplay that comes at a price tag of $0.99. The app designs are not good compared with the latest game app, but some still like the old styled iPhone games, like me.
Cost: $0.99
Rating: 4/5

rel="nofollow>