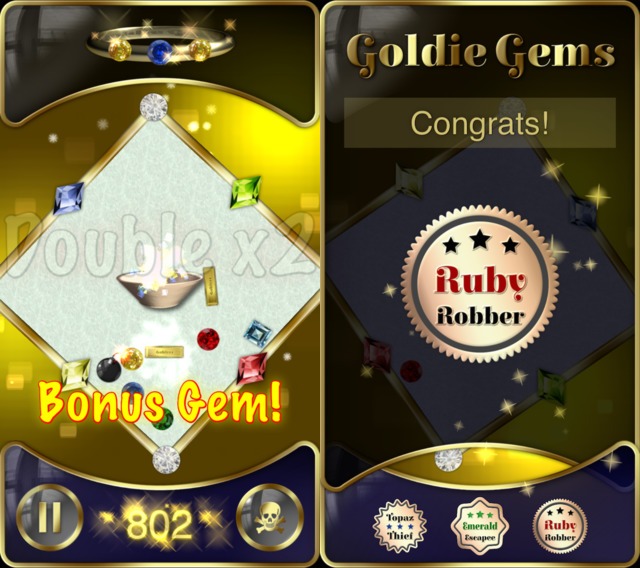 If you enjoyed games which require busting jewels in pairs, then you would definitely enjoy this new jewel game for iPhone, Goldie Gems.
Concept and Theme
Goldie Gems is a game designed and distributed by Tamas Rudnai. The game is just newly released this December 4 and was specially designed for iOS devices. 
Unlike other games, Goldie Gems employs a straightforward concept wherein a player drops rubies, gold bricks, and diamonds into a pot of gold. However, the game is not as easy as it sounds since the jewels are mixed with bombs making them very challenging to maneuver. 
Features
• Two-Game Variety – the game has two varieties: the One Minute game and Sudden Death. As the name implies, the first one gives you one minute to put in as much score as you could while the next one is not time limited but is more challenging with more bombs to deal with.
• Different levels – even if you're a rookie or a self-professed pro at the game, you can always test your skills from three different game levels of Normal, Hard, or Insane.
• Leader Boards – make the game more challenging for you by playing against your friends and keep tabs on your scores and theirs using the leader boards.
• Premium sound and graphics – if you are looking for optimum game experience, Goldie Gems will not disappoint you with its high end graphics and excellent game sounds.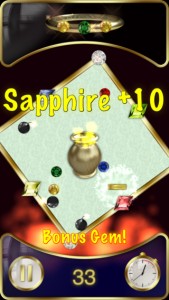 Functionality and Usability
As an iPhone game, Goldie Gems will definitely leave users on the edge of excitement. It is also very easy to learn so they don't have to practice to master the game. Also, the different game levels allows players to enjoy a bit of practice' with the Normal level and see whether they get the hang of things at the Insane level.
Design and Performance
All in all, the Goldie Gems game app is not just a simple yet challenging game to enjoy for everyone, it also works really well even with its vivid visual graphics and sound. The game does not lag too and it provides players with challenging entertainment with the leader boards tracking players' scores. 
Given the simplicity of the game, Goldie Gems is one of the best iPhone game apps out there that players can install on their phone. It is simple and easy to learn yet the game's interface won't disappoint them. With that said, giving Goldie Gems a shot might make users find themselves addicted to the game in no time.
Price: Free