I think no one would have forgotten the game play of Excitebike retro style games. I still remember the time when I was actually crazy about Excitebike. Now, here is a new age Excitebike called Giant Moto for iPhone and iTouch which bring back those retro style Excitebike alive, well not exactly. The Giant Moto is a 3D motocross game developed by ROCKET5, a known iPhone game developer. Recently ROCKET5 has announced addition of four new tracks to Giant Moto and the version 1.1 is available for download on iTunes store rel="nofollow">.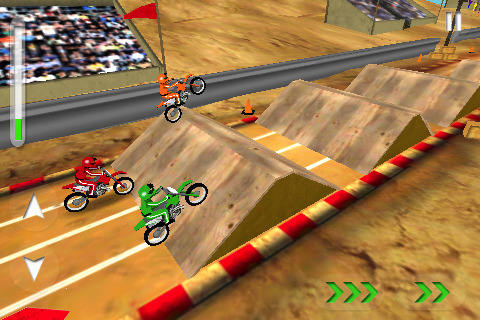 rel="nofollow">
At the beginning when you launch the game, you get to see a page where you need to select the track number, race type, difficulty, the rider color and hit on race. The gameplay is simple and the game controls are located on the screen and some controls are sensed by the motion of the iPhone or iTouch.
rel="nofollow">When you drive the bike, you see a boost temperature meter, which has to be maintained at a constant rate. On the bottom of the screen, there are two set of buttons – one set of buttons for the change of track and the other set for boost and gas. If you want to hold the game for sometime, tap the pause button that is visible on top right location.
The game is real, it reminded me of the retro style excitebike. I would say the game play is similar to the exitebike, except few changes like 3D and motion sensor. Except some lack of features in game play, everything is good about the game and for a price tag of $0.99 its worth of buying this app.
Cost: $0.99
Download from iTunes rel="nofollow">