Frogiz a beautiful arcade game that can be playing by any age group. I must say there are many iPhone games that can be played only by certain groups, but only few games which is quite pleasing to be played by all age group. Frogiz is a puzzle game developed by iPhSoft a leading iPhone game developers who had also developed Simon the Sorcerer and many other adventure games.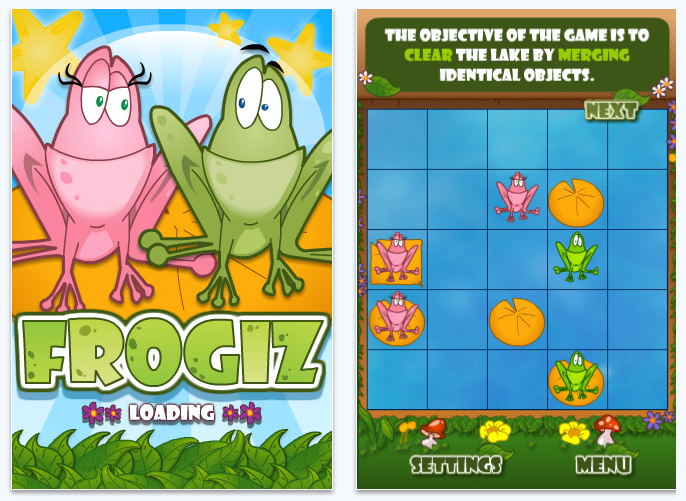 rel="nofollow>
Whenever an app comes to our mind, the first thing we question is whether its good or bad. If I was question about Frogiz, my answer would be" too good". Frogiz is a kinda addictive game with more than 100 levels to play and its not that wasy to complete the levels. So, you won't get a feel like a short game that is common with many iPhone games.

Four things I liked about the game worth of spending time.
Cool graphics with a neat interface – Design matters for most of the iPhone users,  irrespective of what kind of apps they use and iPhSoft has got it right here, so when you open the game we can witness some cool color to add some pleasant tone to the game. Personally I liked the game by looking at their interface alone.
Free and paid version – Frogiz is offering free version, which can be download from iTunes stores. The free version has limited levels with all the options expect My Puzzle. Unlike the free version, the premium version add the ability to create our own puzzles that categorize under My Puzzles on the menu. So if you want to give a try  download the free version and upgrade to premium version at a price of $0.99.
Addictive Gameplay – Once you start playing the game you find it easy till few levels and then you really need to use your brain to clear the pond from frogs and leafs wisely. This in turn makes us addicted to the game to finish all the levels that are challenging to us.
The Undo Button – No one is expert in puzzles and understanding this concept the developers has added a undo button to undo your moves. This actually helps us to change our moves according to clear the pond.
Frogiz an addictive game to be played on your iPhone and iPod touch. The iPad version of Frogiz HD is expected to be out in the coming months. So I recommend you to download the free version of the game and give for it. Believe me you are gonna love it!
Cost: $0.99
Rating: 4/5


rel="nofollow>