Football Agent is not actually a soccer game where you play against team and shoot goals, rather its a game where you need to buy and sell players. The gameplay is simple, users get $2 million and using this money you should buy and sell players to reach 200 million in 2oo weeks. So 200 weeks needed to finish this game? According to the game 200 weeks equals 200 seconds, so one second a week.
Each players price increase based on their popularity. So getting a good player can gain good amount of millions in return, but its not that easy at the beginning. When I started playing the game I felt the amount was less to purchase many players, but its good that the game has a very good strategy to think and play the game.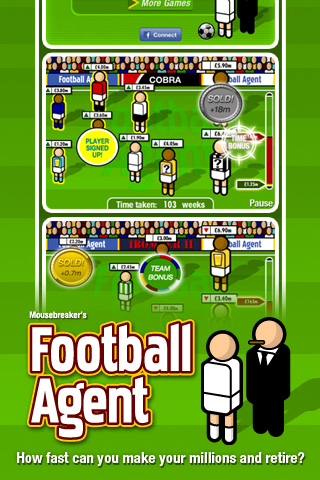 rel="nofollow>
Best about Football Agent
Extremely addictive gameplay
A very short game (Best for playing during break hours)
Easy to play interface
Share you scores on Facebook
Football Agent is a game to kill your slow moving time, but the game was too short if you get used to the game. But anyway for a cost of $0.99, its worth of downloading this game during this season.
Cost: $0.99

rel="nofollow>