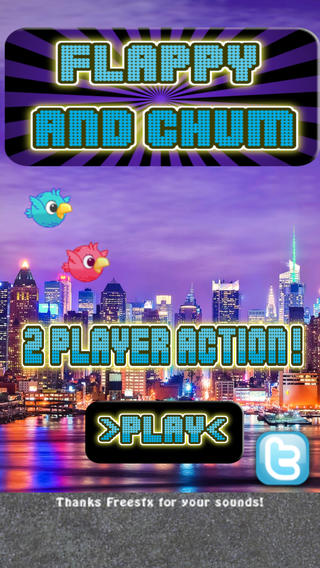 Are you one of those game fanatics looking for an app that could fill the void left by Flappy Bird? You would be delighted to try this game called Flappy and Chum which is about two zealous birds determined to get across obstacles which come their way. This two player game has simple tap controls and cool graphics. To get started, all you require is good hand-eye coordination, perfect timing skills, and, of course a buddy you can compete with!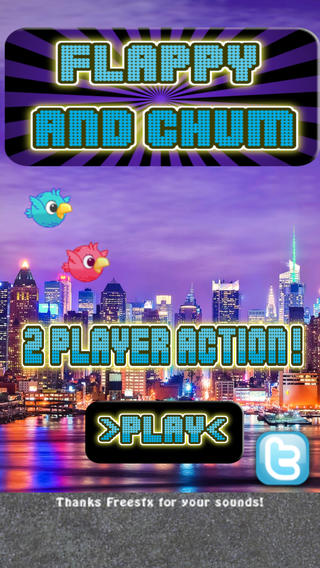 Once you start the game, you will see two, little birds flying above a river and a series of skyscrapers on the other side. These birds look bright and pretty when the lights get reflected from the skyscrapers. Next, you will find a long series of pipes on the top and bottom of the screen with a small space between them. Your job is to make these birds fly through the pipes, by tapping on your device's screen. Your taps decide the height at which these birds fly. If they cross the pipe, you and your buddy get a point; if they hit the pipe, both of you lose a life and have to start the game from the beginning. To achieve bronze, silver and gold medals, you have to pass through a certain number of pipes. Flappy and Chum has an option to share your gaming experience and scores with friends via social media.
The other interesting aspect of this two player game is that you can continue playing even if one player loses his life. The game has separate tap buttons for players 1 and 2. Both of them can tap the buttons simultaneously to make the birds fly in the air. The game's tap-to-fly controls must be something you are familiar with, especially if you are a Flappy Bird fan, but flying with your friend and crossing pipes together can be a lot more challenging than what you think it is.
The game has impressive graphics, fabulous animation, an attractive color scheme and pleasant music to keep players hooked to the game. Though I enjoyed the visuals effects, the experience of playing the game with my kids is what I loved the most. In the next version, developers could provide three lives for each game so that the challenge can be sustained for longer. To make the game suitable for people of all ages, different levels of difficulty can be introduced.
Price: Free
Rating: 4/5