Fastar a new iPhone game launched few days back. The game is said to be the action RPG and its dead simple, addictive game that would definitely puts you indulged into the game. The game is about rushing the through different levels by killing the enemies, well the enemies are the blocks to be specific and finally reaching the end takes you to the end. The game is an exact opposite to the 3d games with nice realistic graphics, but literally Fastar is much better than those games in spite of the gameplay.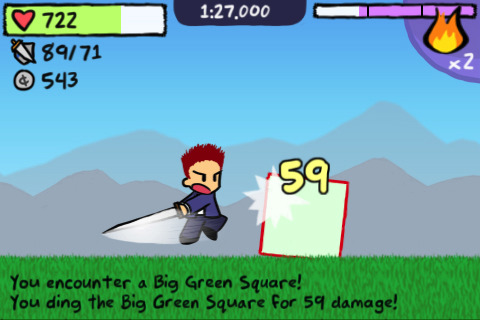 rel="nofollow>
Fastar is all about reaching the end of the game as soon as possible. So while moving forward, you may encounter with square and in order to kill that you need to make some front, back moves and finally tap the screen to hit the colored box. While you are being attacked by the enemies cast a spell on the spell icon to upgrade the stats.
The spells are used to break the square box, but it can be used only for certain times to destroy the square box. All the 24 levels in the game has a fresh look to keep us moving without getting pissed off with the same interface.
There is nothing much to talk about Fastar iPhone app, all I can say – the game moves faster and faster. I recommend its a good buy from the app and thanks to the app developers for reducing the app cost to $0.99 for a short period of time. So don't just think, act fast and get the app downloaded for the iPhone and iPad.
Cost: $0.99
Rating: 4/5

rel="nofollow>