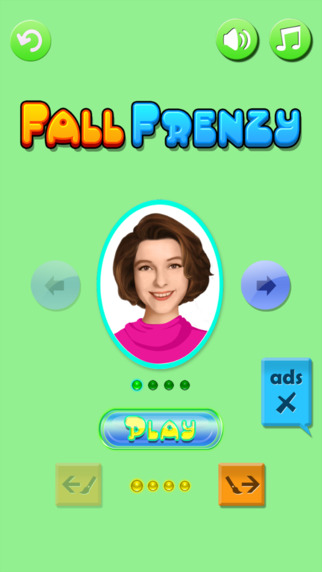 Very few games that introduce fresh and original concepts in bizarre and eccentric ways ever earn the admiration, much less attention, of most conventional gamers. Fall Frenzy could very well be one of those "happy few" games because of its absolutely engrossing albeit remarkably offbeat concept.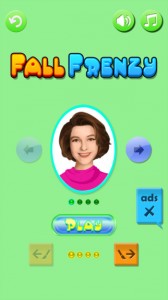 In this game, you are tasked with guiding your character to "fall properly". By this, it means that you have to make the most out of your character's fall by collecting power-ups (hearts that extra lives and white orbs that give points) or performing "falling feats" as she makes her steady decline. The said collectibles can be acquired by tapping them once.
You can "pick up" your character by tapping and holding her. This is one of the main ways with which you can help your falling character avoid getting stuck or hitting hard green orbs, as well as purple popping orbs that would send her bouncing off to any direction. Or you can just throw your character away (like the proper ragdoll that she is) and see if you can prolong her fall just by collecting the said power-ups.
Achievements and other feats in falling can be unlocked based on how well your character performs her fall. For instance, an achievement can be earned by having your character hit her head as often as possible. Many of these feats determine the total score that you get in the end.                                       
You have to be wary, though, because life would be deducted from your character if she hits certain orbs in a way that would realistically kill any person in real-life (e.g. landing hard headfirst from a significant height). This single concept of the game serves to highlight the realistic physics that it employs.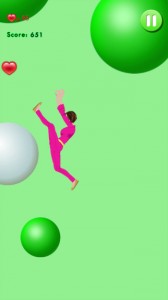 Even though the secondary elements of the game (e.g. the orbs and the background) are very simplistic design-wise, the rag-doll characters' design and movements are noticeably the elements of the game that its developers spent more time in developing and are truly worth praising. With that said, this game bears a similarity to games that feature ragdoll characters, but it is only there that the likeness lies, because Fall Frenzy's entire concept is, at best, very original.
The game is essentially free, but newer features (characters and background colors) can be unlocked by purchasing them with real money. Unlocking the said features is relatively cheap, as the other three characters (2 males and 1 female), for instance, cost only $0.99, as of this writing.
This is definitely one of those iOS games that is not hard to get hooked to because of the unique challenge that it gives to players (you can be certain that your reflexes, hand-mind coordination, and peripheral vision would certainly be tested). Overall, a game that is hard to put down because it simply compels the player to set a new high score in every playthrough.
Price: Free  
Rating: 4.5/5