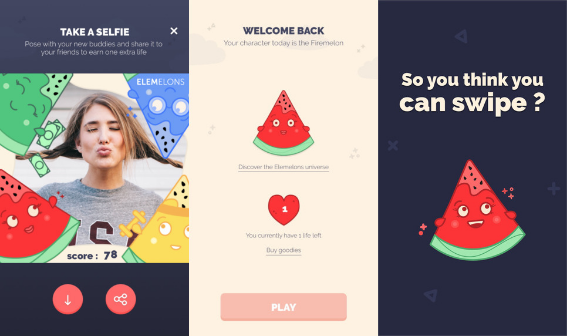 A fruit-themed puzzle game with an interesting and hilarious story to boot, Elemelons wins as much on its gameplay as its side-splitting premises and fun features. Curious about the origin of the app's name? Well, most of it hinge primarily on the game's storyline.
Based on the app's description, the story goes that humans have been cursed due to their slave-like preoccupation with (guess what) social networks. This resulted in catastrophic consequences with the entire Earth vanishing, and the four major elements of earth, wind, water, and fire being transformed into the titular Elemelons. And, mind you, they are literally melons named Airmelon, Firemelon, Watermelon, and Eathmelon.
The app hits social networking further by providing individual, developed stories for each Elemelon, which can be viewed by clicking on the "Discover the Elemelons universe" section of the game. We leave them up to you to find them out for yourself. Of course, the compelling story and satirical humor is only half of what draws players to Elemelons.
The gameplay basically tests your concentration, reflexes, and swiping skills. In every playthrough, the Elemelons appear inside a simple square box that have four different colors on each side. It's your job to swipe each melon towards its corresponding color to earn points. The gameplay is fairly simple but, similar to other games, the difficulty is directly proportional to your progression.
You will find that the rate of the appearance of the Elemelons will increase as well. If you're too slow, it could become pretty crowded in the box. To make matters worse, the Elemelons also tend to bum against one other, causing them to ricochet off towards a completely new direction. This is why you can expect your concentration and hand-eye coordination to be tested to its limits once you reach the later points of your playthrough. After all, if you swipe the Elemelons towards the wrong side, it's instant game over.
Ironically, the game couldn't help but indulge on the very field that it makes fun of, as evidenced by its other unique feature wherein you can share a selfie with the four Elemelons, which you can then proceed to easily share with your friends online. For those who love to compete with other players, know that the game has incorporated a leaderboard as well where you can beat each other's high scores.
For its subtle quirkiness and addictive features, Elemelons certainly stands on its own pedestal. iPhone swiping games are not new in the App Store; however, the manner in which Elemelons delivers it, with its stellar graphics and simple yet original gameplay, makes it difficult to compare with others that belong in the said genre. What's certain is that it has high replayability and brings something new to the mobile games table.
Price: Free