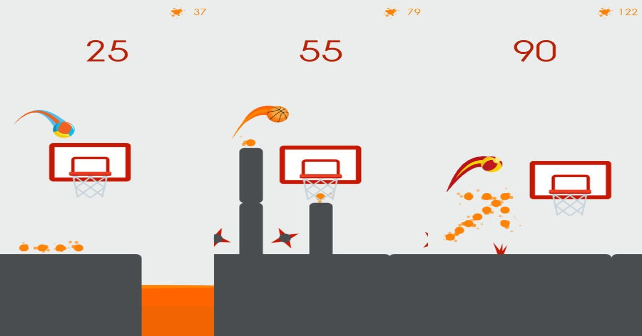 Basketball games in iOS devices are always a treat to play; all the more so if you are a fan of the sport in real life. Of course, a good twist or two in the actual gameplay wouldn't hurt, as is the case in this game called Dunk Hit. Much like its progenitor sport, the game is all about precision and anticipation of where you want the ball to land and, of course, enter the hoop.
Nonetheless, you will immediately discover that the game actually doesn't involve the usual elements that you will see in the sport of basketball. In fact, other than the ultimate goal of making the ball go through the hoop, there's no other aspect of the sport that can be found in this app. Because Dunk Hit is practically more similar to bouncing platform games.
One evidence of this is the inclusion of coin collection. This is an integral feature of just about any type of game that belongs in the said category. The coins, in this case, are orange orb amassments that are often on top of columns, scattered on flat surfaces, and even form certain shapes and symbols. It's your task to gather as much as you can to unlock the plethora of skins that are available to you.
The game offers plenty of "skins" to unlock the player. The skins, in this case, are the overall designs and look that your bouncy basketball will take in each playthrough. As long as you are dedicated to playing the game and finishing every level, rest assured that you would be able to unlock every skin that is currently available.
The skins are another aspect of the app that would immediately get any player hooked as they are all unique and masterfully designed. They also have their own unique trails (that they make to simulate the ball's bouncing movement) Another characteristic that makes this game more similar to a platform game is the addition of obstacles like spikes and liquid that would immediately end a playthrough if your ball ends up landing on them. Ultimately, you have to be very mindful of your taps and swipes, as you control the ball while gathering the said orbs and getting your score high.
From its gameplay and overall theme alone, it's evident that Dunk Hit is more than your average basketball shooting app. Yes, it still contains the dribbling and shooting aspect found in a lot of apps that work the same way, but the inclusion of coin-gathering and obstacle-evading gives this genre a thoroughly enjoyable new twist.
Price: $ Free