Why do we need a super hero every time for adventures? Anybody can kill the evil powers if they have the weapons and the support.
Even a little boy, who is doodled by you, can deal with zombies and treacherous clowns. Yes, this is about a new app, DoodleBoy – The Violence Park, which has hit the App Store only a few days back. You can start playing this game by doodling a face or you can also choose a default face. personally, I prefer to use a face from the image gallery. With this face the DoodleBoy begins his journey inside the Violence Park. No adventure is full without some blood, isn't it? He too kills zombies, clowns and other treacherous creatures on his way.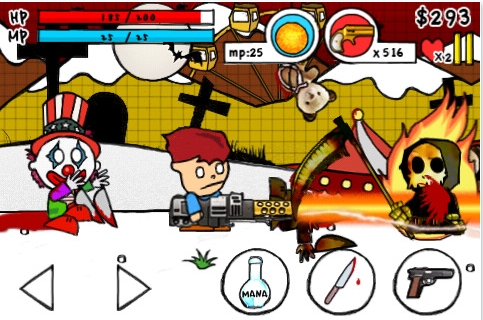 rel="nofollow>
It is acceptable, as he has no other way to save his life. When the game starts, this boy is provided with a knife and a gun to face the enemies. He can kill them with the knife for any number of times, but he must be economical with the gun as it spends bullets.
This app has unlimited levels, the boy has to face different kinds of enemies at each level. He can fill his purse on the way and use this money to hire killers, upgrade weapons etc., There are three killers and 24 types of weapons are available for him. Collect all the ten dolls and make your DoodleBoy as a real hero.
This game shows the funny side of adventure and it can help you to relax between a heavy schedule of work. This game is compatible with iPhone, iPad and iPod Touch and it is available for just $0.99. I found no issues while playing DoodleBoy – the Violence Park, which is an amazing thing for a first version.
Rating: 4/ 5

rel="nofollow>