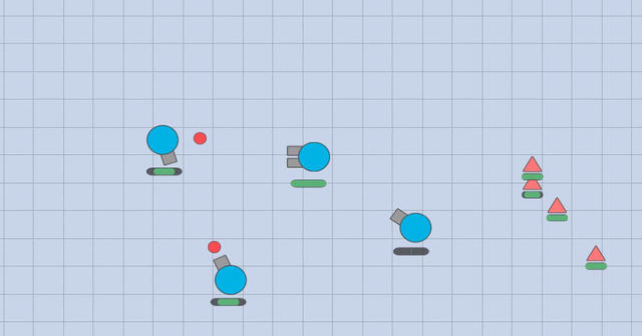 The dot io series of games have been taking the world by stormy lately with games that you can readily play either from your browser of mobile phone. Much of the appeal of these games lie in the fact that they're very direct, no-nonsense multiplayer games that capitalize on competitiveness and endless hours of replayability. slither.io, the predecessor of this game, is proof enough of just how much impact the dot io series is having on mobile gaming. They've been nothing short of revolutionary. Diep – IO looks to be equally promising.
The game started as a browser game, though, and it's only in that platform that the entire aspects of the game can found. However, the iPhone version of the game, which is Diep – IO, seems to be showing excellent signs of development (at least, compared to its Android version). For one, it already has singleplayer and multiplayer capabilities already. However, before expounding on the other features, let's discuss the basic ones first.
In Diep – IO, you enter a world of tanks represented in colorful polygons and shapes, battling it out on a silver grid. You start off as a small basic, blue tank with a small gray gun nozzle. You can shoot at debris (represented as yellow boxes, red triangles, and blue pentagons) to gain experience. Each one gives varying amounts of exp. You can also choose to shoot at and destroy other tanks to gain experience.
Once you level up your tank with enough experience, you'll be able to choose a powerup to level up. The upgrades that you can get are as follows: Regen Health (determines how fast you recover life once you get damaged), Max Health (your life pool), Gun Damage (the damage caused by every shot you take once it hits a target), Reload (how fast your tank reloads), and Body Damage (determines the damage done by colliding with obstacles and other tanks).
The moment you reach level 15 and level 30 (the max level in the game, at present), you'll be able to further improve your tank with further upgrades by choosing a class. Each class has a strongpoint and specialty and has a certain style of play that players would have to learn to adapt to as he plays. You can be sure that your tank would be stronger once you choose a class, though.
Diep – IO is a game that is highly reminiscent of arcade tank games; its influence apparent in the simplicity of the gameplay and the easy way in which players can readily grasp how the game works. It's set apart by this as well as its inclusion of classes, which brings variety to the gameplay. It's also not hard to get hooked to game, especially if you love arcade games.
Price: Free