Have you ever gone on a long journey in search of candies and desserts? The idea may look outlandish but it is certainly worth a try with the new gaming app, Dessert Dash. This candy ball action game comes with different playing modes, challenging levels and exciting plots to give you hours of addictive fun.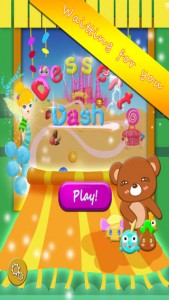 Once you start the game, you see multicolored candy balls stacked on the playing field. There stands a teddy with a small pot in its hands. The pot shoots up a number of candy balls and your task is to aim each one towards a candy ball of the same color in the playing field. And when you are successful in doing so, the candy balls explode, resulting in a splash of candy. The idea of the game is to use the candy balls in the pot to bring down the entire stack of candy. At the end of each level, you get stars based on your performance.
Dessert Dash is an easy aim-and-tap game with simple controls. It comes with three gaming modes: first line elimination, time limited elimination and crown elimination which offer a diverse gaming experience. The game has 90 levels with 9 grand plots and 9 types of delicious desserts. As you move to more advanced stages of the game, you have to face additional challenges like a death ball, demon ball, and a doubled faced ball. In the later stages of the game you can use greater striking effects, magic balls and magic spells to garner bonus points.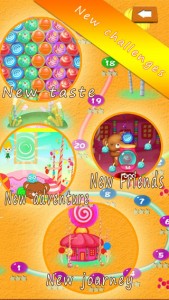 Dessert Dash has splendid animation, gorgeous graphics and exciting sound effects. The game has a colorful background which keeps changing for each level. The color scheme and visual elements like splashing candy are the major highlights of the game. You have options to share your score via social media and access the game center to challenge your friends online.
Dessert Dash offers plenty of exciting challenges that are sure to give you an adrenaline rush. It is a free gaming app which lets you buy additional coins, lives, magic balls and magic spells with in-app purchases. You can get a hang of the game easily with the hints and instructions in the app. In the next version, developers can include an option for multi-player gaming.
Price: Free
Rating: 4.5/5