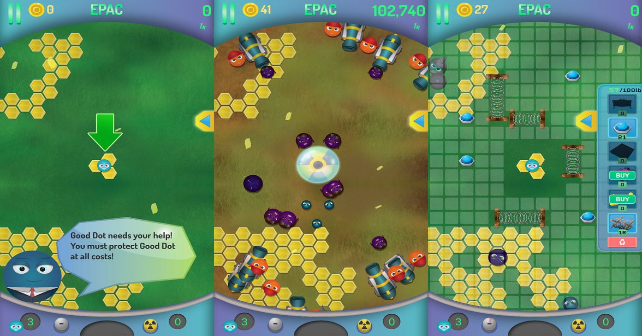 Tower defence games will always provide a special kind of entertainment to gamers in general. A good testament to this is the fact that varieties of this type of game have since began to spring up after its advent. That is practically what DeadDots capitalises on, as it brings a good twist to what is undoubtedly already a household term among gamers worldwide.
What you should know beforehand is that the game is actually a mobile shooting and tower defence hybrid. You are given the task of protecting a single dot (aptly named as Good Dot). What are you supposed to protect him from? Endless waves of evil dots of various colors, sizes, and malevolent expressions.
You destroy enemies by tapping on them as fast as possible. However, as their numbers continue to increase as you progress through the game, you'll have to rely on other tools and power-ups to beat your foes. Power-ups and coins can be earned by defeating evil dots. These can easily wipe out armies of enemy dots in the blink of an eye, highlighting how powerful and vital they are in helping you finish the game and increasing your score.
What makes DeadDots thoroughly unique is that it is able to focus both on shooting and the usual planning and construction aspect of most tower defence. This is because in this game, you're able to build obstacles to boost your defence. These defences can be purchased from the in-game shop using the coins that you've earned.
They can, in turn, be deployed anywhere you want them to serve as a deterrent to enemy units. Most would suffice to kill enemies once they attempt to cross them. From laser fields and good old-fashioned barb wire to automated turrets, rest assured that you can have vast options in terms of building your defences. However, do take note that your supply of these defences aren't unlimited so you'll have to purchase new stacks to continue building.
It's in this aspect of the game that majority of the strategizing and planning hinges. You also have to pay attention to the points of entry of your enemies in order to efficiently build your defence. Other features of the game include the ability to compete with your friends and rise in the leader boards. The game never lets up, especially once you start surviving longer. Its difficulty slowly builds up, allowing you to gradually plan how you're going to carry out your defence and destroy your opponents with relative ease.
Price: Free