Deadball Specialist is a fun addictive game to play out this season. I don't mean here addictive only because of the soccer season, but this game will surely puts you with the game for hours. The game about shooting the ball into the net using different techniques and levels in the game build in a impressive way.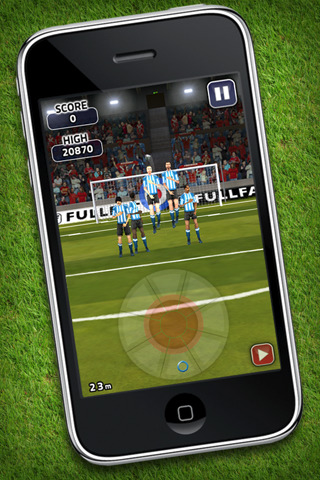 rel="nofollow>
There are two things that made me stick to the game for more than an hour. At first let me talk about the graphics. Wow and wonderful thats what I have for the graphics, the developers has came out with a eye catchy design to give a look of a real playground. The visual are stunningly brilliant and kept me playing till my hands started aching.
The gameplay is another cool features about Deadball Specialist and for me I just loved the gameplay particularly I got addicted to the spin shot which we might have seen with soccer superstars. Well, after playing for more than 3 hours I must say it is one of the best game to play on your iPhone and iPod Touch.
Deadball Specialist is all about challenges and earning points to top the table and certainly you are going to get into the game because of its stunning graphics and excellent gameplay. So, head to the app store and download the game. Thanks to the developers for releasing a lite version of this game, which can be downloaded for free from the iTunes store
Cost: $0.99
Rating: 4.5/5


rel="nofollow>