There is a new game on the block, the Dead Defence iPhone app by PlayFlock. Even though tower games are not a new experience in the gaming scene, Dead Defence will definitely win your hearts over.
This tower strategy game has the atmosphere of a post-apocalyptic world. Some unknown contagious virus has spread out in the entire planet, is infecting people, transforming them into mindless flesh eaters.
Scientists have tried to neutralize the virus but their attempts have only escalated the infection outbreak. Now, it is in your hands to save and protect human kind from getting totally extinct. Use weapons, devise strategies and anyhow save the world.
The GamePlay:
In this game, the base that you will be protecting is in the screen, and offers you a position to build a tower, and give the tower a range and an attack bonus. You need to remember that every tower has their strengths and weaknesses, so you have to be careful while deciding which tower should be placed where.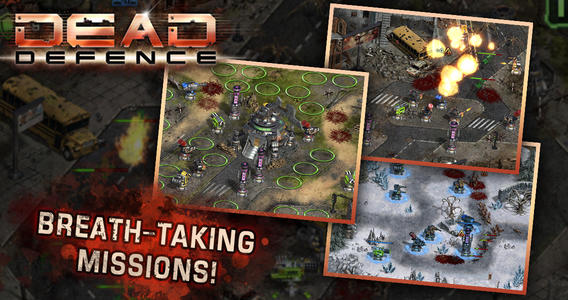 Monsters and Zombies might change routes while trying to attack, so you might need to consider a route change while setting your towers. Your tower base can face just 20 attacks, unless of course you repair it using special skills, and that will cost you crystals.
As you eliminate the monsters and zombies you will gain crystal, chemical stuffs and energy as rewards. As you set new towers and enhance them, it will cost you energy, and you have the choice of researching various kinds of defensive towers.
Graphics:
The graphics in this game are realistic and amazing. You will notice zombies creeping to the base when you shoot them down and they have lost their legs. After the zombies are eliminated their blood will stay there for a while. The user interface of the game is good.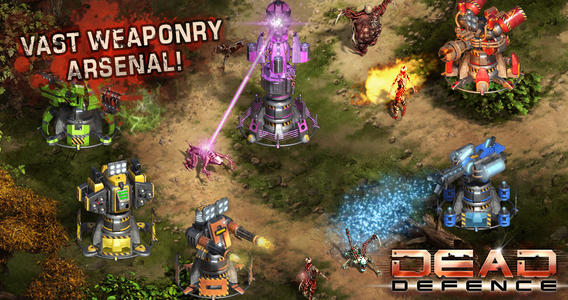 Features:
There are 24 levels in the game and more will be added soon. The game has excellent graphics making it more attractive. There are 54 achievements to accomplish. These are divided into 'challenge', 'battle' and 'story' modes. You can buy crystals from the bank. You can also gain them by following Dead Defence on Twitter or you can like it in your Facebook account.The settings can be seen towards the bottom left corner as a gear. At the bottom right are present the Twitter and Facebook icons.
Conclusion:
Dead Defence does a great job compared to the other free tower games that you can play in your iPhone and other Apple devices. It combines the classic gameplay with an effective upgrade mechanics which every hardcore player will surely like. If you are a tower defence fan, you should definitely give this a try.
Price: Free