Chillingo's and Zeptolab's has jointly released the game – Cut the Rope which was an instant hit on the app store. The quality and the curiosity this app has made Cut the rope sales figure reaching 1 Million downloads in 10 days. For a developer the numbers are really huge in a short span of time.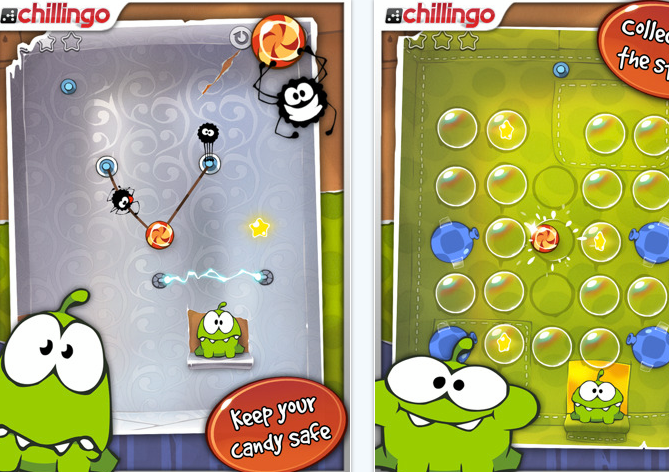 rel="nofollow>
The main objective of this game is to feed the little green monster, Om Nom with candy by cutting the rope. While cutting the rope you need to collect each of the three golden stars in each stage. You will also have some special tool such as air pumps, catapults for reaching the candy to Om Non. In order to move up the level, this game demands a different strategy in making the candy fall into the mouth of Om Nom. The more the level you reach greater the difficult the game would be.
Cut The Rope has tons of barriers like spikes that will break the candy and spiders that will steal the candy. You can also make use of the air pumps and catapults to avoid barriers that will swing the candy or float upwards with the candy inside.
The game takes you to a different graphical theme a total of 4 worlds for more than 100 level. Each level will have different items in box named as cardboard box, fabric box, foil box and a gift. If you look forward for a nice game to spend your time, my suggestion would be Cut The Rope for its unique idea and addictive gameplay. Haven't tried yet, then try out the lite version rel="nofollow> and I am sure, you will enjoy it.
Cost: $0.99
Rating: 4.5/5