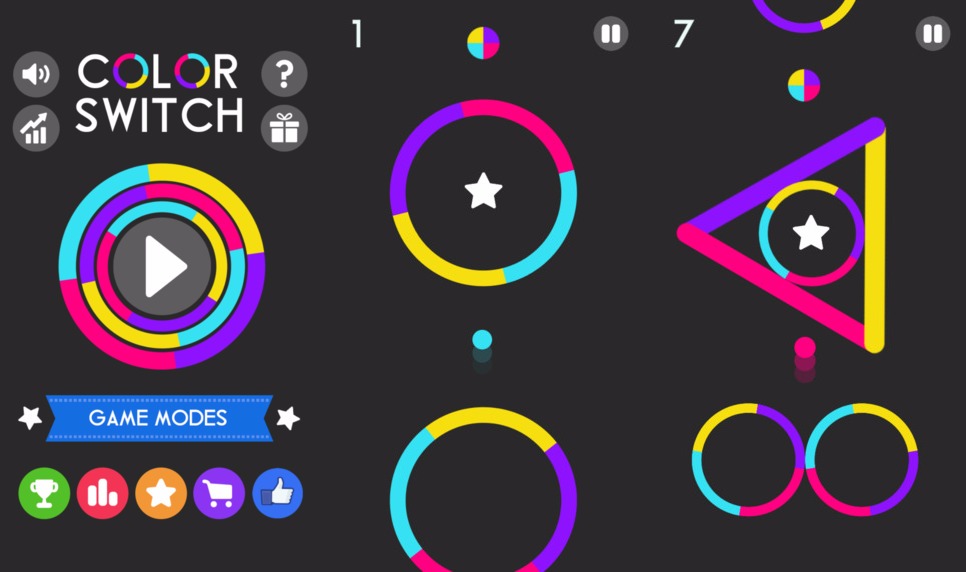 Games in the App Store that center on testing your reflexes would always be a crowd favorite because of their simplicity and undeniable non-stop action that would always keep you on the edge of your seat. The phenomenon that was Flappy Bird is proof enough of this. If there is an app that could rightfully be considered as the proper heir to the said game that took the world by storm, it would be Color Switch.
For one, Color Switch shares the same simplicity when it comes to gameplay. You need to tap your phone's screen to keep a ball bouncing (again, like Flappy Bird). If you don't tap, the ball would only fall and it's game over for you. Tapping too much, though, could be equally risky because of the game's pervading color-matching mechanics.
After all, it's your job to make sure that each time you pass through the (often) revolving or moving geometric shapes, you have to time it in the second that its sections matches the ball's color. The partitions in the said sections are clear and very much pronounced; however, great attention would have to be given before deciding to pass through.
Of course, being aware of how much the ball would bounce with every tap is crucial to getting a hang of the game and exercising better control and timing. Take note that as you progress further, you can expect more difficult obstacles. However, each playthrough is noticeably unique and stochastic, so you can be certain that your encounters would be highly unpredictable. The basic ball avatar can be changed by purchasing new ones from the shop using the stars that you collect with each playthrough.
Besides the endless standard game, know that there are different game modes available in Color Switch as well. In Challenges, for instance, there are different difficulty levels that you can choose from. Each has a stage that you have to complete to unlock other stages. In Reverse, on the other hand, the main game interface is flipped and you have to start from the top to reach the bottom to finish. Other modes include: Races, Cave, Gravity, Bounce, etc. You can even unlock other levels for a lowly $ 4.99 price. What's certain is that these modes add to the freshness of the game.
Most of the addictive elements of the game can be attributed not only to its gameplay as a whole but also to its high score rankings, which only serves to boost competition. There is also a daily roulette that rewards players with stars and new avatars. If Color Switch would be compared to other reflex app games in general, it most definitely stands out with its entire concept. It provided a very original twist to an archetypical reflex game, and this is the very reason why it's become extremely popular and addictive, much like its predecessors.
Price: Free