For people looking for a modest game to mellow out with, they need to try out Color Pulse app. Color Pulse is an exclusive game, which mingles relaxing visual effects with well matched music. It is designed to be challenging and artistically attractive. Color Pulse provides a unique addition to the various iOS games currently in the market.
Features:
The name "Color Pulse'' is actually a perfect description of the game itself. It features colorful orbs that elegantly float across the screen and pulsate to relaxing sounds of pleasant music. This Color Pulse game has 3 games modes: Elimination, Avoidance, and Classic. Each mode includes different colored orbs that you will combine in specific ways, based on the objectives of the game modes. The 3 game modes also share soothing, slow paced pinion music, offering you a colorful as well as relaxing iOS strategy game experience.
Color Pulse is a Relaxing Game:
In Color Pulse, gamers are given simple duty of linking liked-colored orbs into the longest groupings/ chains before the blast into minute floating fragments. Controlled using plain "drag and place" finger sliding, this iphone app is easy to learn, even if it is your first attempt.
Unlike other app games, the slow pace of Color Pulse makes it a great means to relax, after a long busy day. Instead of making players to feel frustrated and rushed, color pulse keeps the mood calm.
Even though the moderately slow pace of Color Pulse may not be liked by players who enjoy time-focused, quick-paced games, color pulse will certainly be a great addition to an iOS iPhones app library by many users.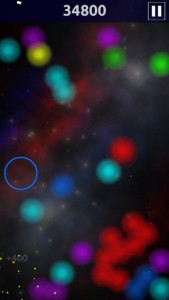 Look and Layout:
Customers are greeted with a customized home screen that can be chosen to bring them to different game options such as Elimination, Classic and Avoidance. Navigating through these options is accomplished easily. A single water like-effect arbitrarily appears on the star-filled game board setting during each game mode.
While many iOS strategy games have a particularly objective to achieve, Color Pulse is more of a Zen like iOS strategy game experience. You can easily personalize the game settings. You can quickly turn off the in game music any time you want. The Color Pulse's graphics are simple. This simplicity flows absolutely with the relaxed feel of the game.
All the colors are plainly displayed against a black background. You should not have any problem with differentiating between the various colored orbs. Currently you can get Color Pulse through the iTunes stores for $0.99. Color Pulse needs iOS 5.0 and is compatible with iPhone.
Price: $0.99
Rating: 4/5