Bumps a new addictive iPhone game app developed by Utopian games rel="nofollow>. Bumps is a puzzle game based on saving the bumps (the rounded creatures) from the aliens. Even though the idea may look similar, the game play was incredible even at the first attempt. Lots of levels and best game play puts it among the best puzzle game for iPhone released this season.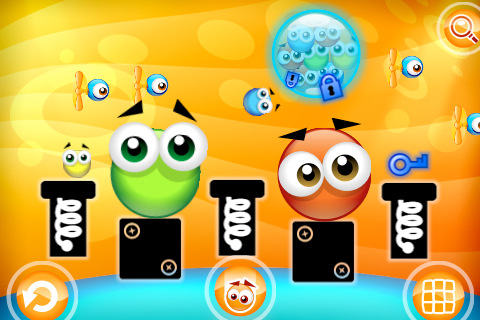 rel="nofollow>
The game is based upon a Physics property- gravity. You may think what's the matter with gravity in a puzzle game, well to be more specific we need to place the bumps to drop down and thats where the gravity has its role. So when it drops down it bounces to get the correct keys respect to the color of the bumps (red colored bump should the red color key to unlock). Some puzzles which I started took long time to finish, its not because I am learning the game, its with the long levels. But, I found another way for those who hate long puzzles. Bumps has a mini games too with is also interesting as like the full version.
When I started to play the game, the tutorial are very helpful to understand the way of playing the game. I must say a very useful tutorial section. The app has some highlights that needs to be shared here. So let me put it one by one.
An awesome graphics with sharp and detailed pixels
Beautifully designed creature. I love the eyes of the creature actually.
A light hearted music to be loved by everyone
So much of levels, you may never get bored after completing levels
Bumps can be purchased for $0.99 from the app store and its compatible with iPhone, iPod Touch and iPad that runs on iOS 3.0 or later. Don't miss it, the app worth more than a dollar.
Cost: $0.99
Rating: 4.5/5

rel="nofollow>