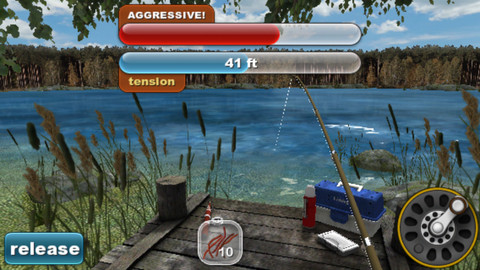 One of the fondest memories of my childhood are those of going fishing with my grandpa. Longing to relive those days, I have been looking for fishing apps. That was when I came across one named Fishing Paradise 3D. The app offers a challenging experience for all novice and master anglers and puts your fishing abilities to the test. You can choose from a variety of baits to attract and hook the fish.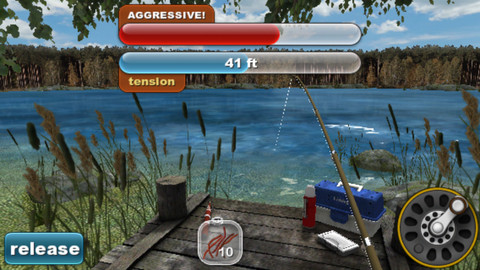 Fishing Paradise 3D belongs to the games category in the App Store. This interesting fishing game allows you to build your own dream fishery. You can also go to exotic locations with your guide, the legendary fisherman, Bass Professor. The app provides opportunities to stock and breed your favorite species of fish, invite friends, host tournaments and more.
Click on the cast icon to cast the rod and begin the game. Each fish has different strength (denoted by the green bar) and you will have to put up a tough fight to tackle the aggressive ones. The blue bar indicates the tension of the line. The fish will escape if the line's tension increases. You can sell your catch for coins. You can also turn them loose if you want them to survive. All you have to do is rotate the fishing reel to release the fish. The app has fifty different species of fish you can catch.
In-order to unlock items, you must earn coins and points or purchase shiners. The app allows you to shop from any one of the following categories: Buildings, Fish, Tackle, Baits & Lures, Consumables, Property and Resources. You can shop for new buildings to build your own fishery or sell older ones You can buy new equipment/sell equipment or repair damaged ones by tapping on the tackle category. With Fishing Paradise 3D you have endless possibilities to expand your fishery.
The app provides options that allow you to compete with players all around the globe.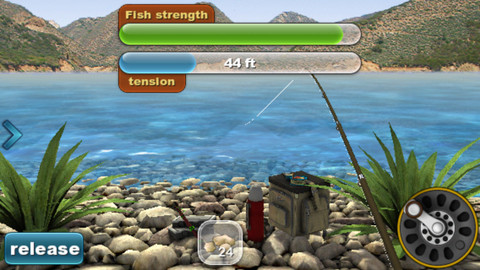 I found the continuous pop-ups for in-app purchases to be very distracting. I also noticed that the app's background music is monotonous and it would be good if the developer improves it.
Nevertheless, the app relieves you from the guilt of eating fish, by providing you with an opportunity to save them! Fully animated environments and intuitive controls make Fishing Paradise 3D one of the best fishing games I have played.
Fishing Paradise 3D is an iOS app that requires iOS 4.3 or later versions.
Price: Free
Rating: 4/5