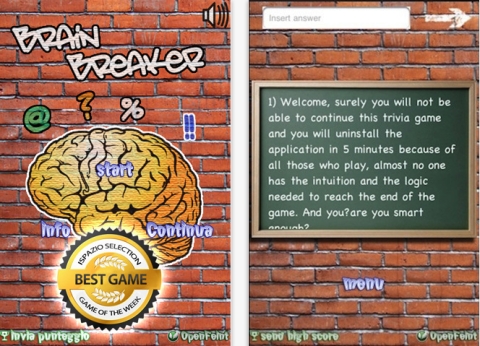 Wow! I found another amazing and challenging trivia game on the App Store. It is really very tricky and the key to play this game is to "think in an unconventional way". If you have stopped playing trivia games, just try BrainBreaker. This game makes you think differently to answer the questions. Most of the questions don't have any logic in them and for such questions you have to think outside the box. BrainBreaker will make you think laterally.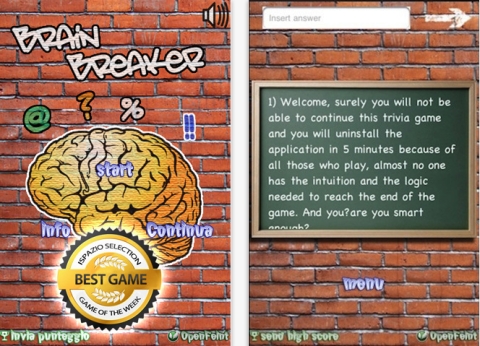 rel="nofollow>
No rules and no clues. This game entirely depends on the way you think. I bet no one can complete this game. There are more than 30 questions. The background music is really surreal. Every time you answer a question correctly, you will hear a clapping sound. In the first few answers, you will be able to understand what the rule "think in an unconventional way" means.
This game is highly user friendly. Just tap the arrow at the right top corner, type your answers and again tap on the arrow. The best aspect of the game is that, apart from typing the answers, you also need to interact with your iPhone to get the answers right. You will not be able to take your eyes away from the iPhone till you complete the game as it is really interesting.
My son and I started playing the game together. We played for more than an hour but we were not able to finish the game. Later my husband also joined us. The game is a bit more challenging than what I expected it to be. However, you can team up with your friends and try playing this game together.
This app supports Retina Display which provides the best visual quality. It also supports Openfeint for online leaderboards and achievements. This app was first in Italian but now an English version is available too.
Just get the app and improve your analytical skills. The app is sure to make people go crazy over it. Hope you all enjoy BrainBreaker.
Price: $0.99
Rating: 3.5/5

rel="nofollow>