There are not many iOS hockey games, which manage to captivate through design and simplicity. However, Bob and Bobek: Ice Hockey is a game, which achieves this performance. The game features official characters from Mr. Vladimir Jiranek, being a perfect opportunity for kids to have fun while having nothing better to do. It comes with several options, which make the overall gameplay enticing, but perhaps the most rewarding aspect stands in graphics, which are designed in such manner as to relax the kid and make it feel like taking part to the game.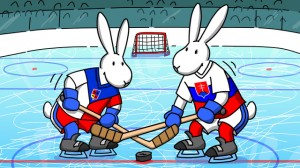 Features:
* Training Levels
The game comes with a serious of training levels, which have the objective of showcasing basic controls and enabling the kid to get familiarized with the overall gameplay. These are a lot better than basic, boring tutorials, which are specific to many games nowadays.
* Easy Controls
Even if the game comes complete with training, it has to be said that controls are very simple and intuitive thanks to the touch screen interaction. These are explained in the beginning and require only few swipes to be activated. This way, users can control various hockey players while still being able to focus on the game action.
* Action, Fouls, Penalties
The entire hockey game that takes place here is very realistic and makes users feel like they are taking part to the action as of that moment. The game goes live within seconds since the Start button is pressed, and thing is that it's also accompanied by a real-life stadium sound which only deepens the atmosphere and allows players to immerse themselves in the action.
* Hockey Teams from 16 Countries
An optional feature is represented by the ability to choose between teams from 16 countries, which were featured at WCH2015, thus being able to get a better grip of the strong teams, which have coordinated players or smaller ones, which you feel that are more suitable for your tactics. There is also an option to experiment with different teams and settings.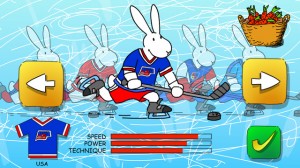 * Tournament and Multiplayer Modes
The game can be played either in Tournament mode, where Single players fight the Al in the almighty fight for the glory, or in Multiplayer mode, where any player from the Internet can be challenged. There is a random selection going on here and based on multiple characteristics the most suitable opponent is then chosen.
* Official Mascots and Characters
The game is strongly represented by the official mascots of Hockey WC 2015, as well as official characters Bob and Bobek, which are included under license in this game.
Conclusion
Bob and Bobek: Ice Hockey is a game that all kids passionate about hockey should give a try. Graphics are nothing short of splendid, features are numerous, and the title is currently being offered free of charge (for both iPhone and iPad).
Price: Free
Rating: 4/5