Many individuals look for games that are easy to manipulate to ensure fun and enjoyment. They look for options that will just need minor controls like popping balloons. With Balloon Hive Battle, players will have a simple game, but is enough to spend their leisure time in an addicting way.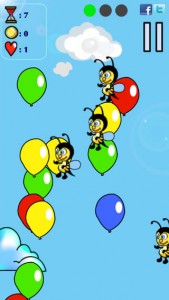 App Overview:
Developed by Magovinna, Balloon Hive Battle is an iPhone game app that will certainly complete your day. It is very simple to use and is ideal even for kids who want to play games through their parents' devices. Hassle-free controls guarantee enjoyment for players of all ages.
Balloon Hive Battle lets you enjoy the following features:
• Simple Controls – Your goal in this game is simple: pop the balloons. Simply tap on the balloons and pop them to earn points. No need for complex controls, but will still guarantee a fun-filled gaming experience.
• Colorful Graphics – It has colorful displays that attract people's eyes and interest. Although it has simple, caricature-like graphics, they are still colorful and will be perfect for children who are particularly attracted to colors.
• Addictive Gameplay – It is true that the game only requires popping the balloons, but it does not mean that it is far from being addicting. The fact that you can pop balloons makes it addicting. What makes it addicting is the added challenge placed on the game. You will pop balloons, but you must avoid the bees that fly together with your targets. This makes the game more enjoyable and challenging for everyone.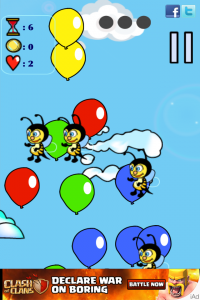 • Earn Points The Easy Way – Scoring points is easy. Simply pop three balloons with the same color simultaneously to gain points.
• Game With Good Performance – The game is lightweight and will perform as expected. You will love the fact that it responds fast. Match its build together with the phone's performance and you will be guaranteed with a responsive game that you have been looking for.
• Compete With Your Friends – This game won't let you compete directly with your friends. You can, however, compare your scores with them on the leaderboard. Be proud of the points you gain and see who among your friends gained higher or lower points than you. Be competitive through this game in a subtle way.
Balloon Hive Battle is a fun game despite its simple build and controls. You can spend your entire leisure hour with this game. Share this game with your family members like children to guarantee complete enjoyment for everyone.
Price: Free
Rating: 4/5