Nothing really beats the classic. Then again, there is lots of stuff that depict the classic these days to no failure. When it comes to shoot em up games, a title that can never be forgotten even through time would be none other than the cartoon-themed TwinBee. If you want something as good as the said title, which you can enjoy just at the palm of your hand, Aquator for the iPhone makes a great choice.
A Concise Intro to Aquator:
Developed by Software Solutions & Technologies AG, Aquator is a game application that is designed for iOS devices. The story takes place in an underwater realm called the Sea Kingdom, where a plethora of aquatic creatures dwell in peace. However, the kingdom eventually gets attacked by Vicious AquaMonsters, disturbing the equilibrium. The fish people become antsy by the alarming situation causing them put the brave Aquator on disposal. It is your job to control the underwater hero in the Combat Bathyscape to bring down those who are poisoning the supposedly peaceful Sea Kingdom.
Playing the Game:
With the Combat Bathyscape being a submarine ship equipped to pure battling purpose, you will have every chance to restore the good biomes of the underwater kingdom. Its powerful cannon have the capacity to obliterate any evil creature that comes into your way.
Stuff in the Kit:
Aside from the cannon, there are more essentials in line for the adventure such as:
* a super bomb
* two different weapons
* mega foods
As you advance through the game, there are more weapons and power-ups that you can grasp to increase the odds to win every level.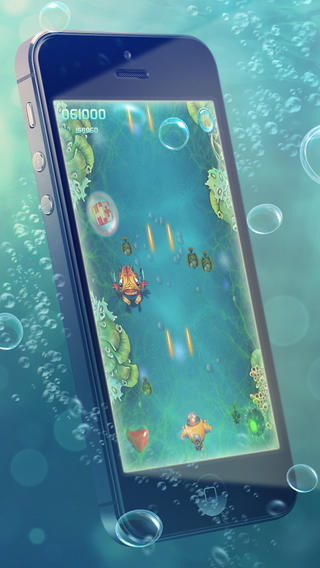 Taking the Game Seriously:
For a handheld contrived game, it's a tough one that you really shouldn't underestimate. The mechanics of the game maybe simple, tilting your iPhone, iPod or iPad left and right as the shooter of the submarine aims and shoots the enemies before you, beating the game is a different thing. Contrary to the simple mechanics is the game's fast paced movement and veritable difficulty. Nonetheless, it's a fun game that you might never get enough off until you beat each level.
With the Version 1.0.1 of Aquator for the iPhone being released, all the minor errors have been put to application. The symmetry of that would be a smooth and awesome gaming experience on your beautiful touch-interface iOS device. For a 27.7 MB sized game, the graphics are quite crisp and distinct. Totally worth the time playing.
Price: Free
Rating: 4/5