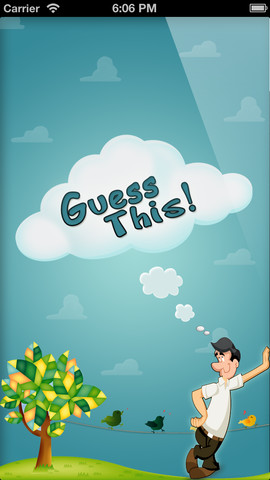 Here's another excellent creation by 50 App Street Limited. Keeping the quiz gamers in mind, this app will have your brain guessing throughout the challenge.
"Guess This" is a FREE app perfectly designed for your iPhone device. This creation was developed to satisfy your need to keep your brain freshly challenged. You will not get bored with this app, as it promises to deliver hours and hours of exciting quizzes to fit your taste. You will be tested. Your knowledge will be stretched. You will be able to prove all that you know with this fun app.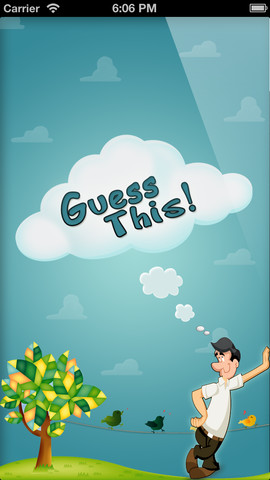 In the latest version, the minor bugs that existed before have been corrected!
The options are abundant. You will have to demonstrate your vocabulary knowledge when asked to work out different "words." Show the world how well versed you are by solving different "sayings." And finally, continue with the demonstration of your extensive knowledge by solving the "phrase."
Here's the deal. Most quizzers will become overwhelmed because they can't solve the problem. The tip, however, is the answers are usually right in front of you. It's kind of like looking at a painting and trying to see something else in the paint. Don't think too hard, as the answer is right there. Many gamers will be challenged because they will analyze too much and make the game challenging. Sit back, have a ton of fun and prove what you know without over stretching (if you can).
The graphics and the overall design is simple and easy to use. You can share your love for the app via social media, like on Facebook. You will also enjoy the music to keep you focused on the next guess!

Here are additional features you are sure to enjoy with this app.
* The app has been created to accommodate 9 different languages to include English, Basque, Dutch, Chinese, Korean, Japanese, French, German, and Vietnamese
* It's only 57.8 MB in size, therefore, you don't have to worry about this app clogging up the space of your device
* This app is compatible with iPhone devices, however, it requires you to have the latest iOS 5.0 download and you will have the best experience with the iPhone 5.
* If you get stuck, there are in app purchases starting at $0.99 to help you move on.
* This app currently boasts a 4 star rating!
Quiz gamers are loving this app and everything about it. Here's what they are saying:
* This is a fun, challenging app. It's a must have.
* My brain is constantly challenged with this app. Sometimes I think to hard to only discover, the answer was there all along.
Price: Free
Rating: 4/5